Solvaderm Juvabrite Skin Brightening Complex Review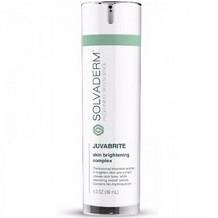 Our review of Juvabrite Skin Brightening Complex will enlighten you. This product claims to fade discoloration, blemishes and dark spots that are caused by sun exposure, acne, pregnancy or oral contraceptives. This product also claims that it is perfect for assisting to reduce dark spots, sun spots and acne marks to aid in returning your skin to its natural color, tone and texture. This product is light enough to be worn under make-up or alone.
Ingredients
Some of the ingredients are listed below:
Seaweed Extract
Purified Water
Melissa Officinalis (Balm Mint) Extract
Seaweed assists with powerful hydration. Seaweed contains a lot of proteins, lipids, vitamins and minerals that the skin is able to absorb without difficulty. Hyaluronic Acid plays a vital part in skin health. It is able to hold in moisture. Purified water, with no toxins, pollutants and microbes, is able to be utilized safely in skin care products. Its primary job is as solvent or carrier to deliver active ingredients to where they will be most useful to skin. Lemon Balm (Melissa Officinalis) protects against environmental stressors. It can also boost the immune system.
So many ingredients are found in this product but we are uncertain which ingredients are the main ingredients. We are unsure if this product is suitable for vegans. This product is paraben-free and perfume-free.
Instructions
After cleansing, a thin layer should be applied to the whole face or affected area morning and night for overall skin brightening. To balance uneven pigmentation, utilize only on areas with noticeable discoloration. For daytime use: follow with a large application of SPF 30+ sunscreen. Use this product consistently each day and night. Juvabrite's claims that you'll see the effects in just two weeks and increasingly dramatic results in up to twelve weeks.
This product has an airless pump dispenser that utilizes a vacuum system to dispense the product. When you use your airless pump for the first time, make sure to prime the container by pumping out excess air. To prime, your pump, cover the opening where the product comes out of with your finger and simultaneously pump slowly, about 10 – 15 times. This will assist to get additional air out and get the pump working correctly. The priming process has to be repeated if your pump stops working.
Price
The manufacturer sells this product for $69.99 on its website. There is no price discount available. You can get free US ground shipping on orders of $60 or more.
Guarantee
The manufacturer offers a 60-day money-back guarantee. If you are not completely content with any of the products bought directly from the manufacturer, you can return them within 60 days from ship date.
Conclusion of Our Juvabrite Skin Brightening Complex Review
We were impressed by the product being a transformative treatment option for people wanting to lighten dark spots without making use of harsh ingredients. Another plus were the many positive customer reviews from individuals that have used this product. An additional benefit of this product is that it includes antioxidant vitamins for anti-aging.
We were not impressed with the expensive price of this product. At $69.99, we think this is quite an expensive price to pay for this product. Not everyone can afford this product. Another issue is the number of ingredients that this product has. We feel that there are too many ingredients.
Top investigative research brought to you by the experts at Customer Review.