Shouvy Whitening Body Lotion Review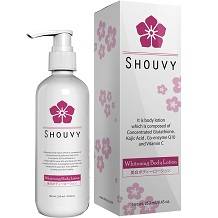 In this review we examine the product Whitening Body Lotion manufactured by Shouvy. This company claims that their product will lighten the user's skin, while keeping it moist and smooth. The product also claims to strengthen the skin cells while protecting the skin from pollution. Continue reading this review to learn more about Whitening Body Lotion. Learn the facts about this product: the ingredients, how to use this product, the price of the product, and if there are any possible guarantee.
Ingredients
Carbomer
Propylene glycol
Stearic acid
Glyceryl monostearate
Propylparaben
Methylparaben
Perfume
Titanium dioxide
Water
Glutathione
Edta
Cetyl alcohol
Kojic acid
Vitamin C
Coenzyme Q10
Artocarpus lakoocha heartwood extract
Key ingredients are concentrated glutathione, kojic acid, Co-enzyme Q10 and vitamin C. The ingredients have a lightening effect on the skin, while offering antioxidants which help to renew the skin, leaving it soft. Vitamin C drains away fluid causing dark bags under the eyes. Kojic acid, sourced from mushrooms, is an alpha-hydroxy acid inhibiting tyrosinase, while lightening pigment spots, evening out skin tone and eliminating other skin discoloration problems. However, this product formula lacks clinically proven and patented ingredients known to be effective.
Instructions
User instructions appear too simplistic. The lotion should be applied twice daily – mornings and evenings. This product may be used on the entire the body; however, there is no differentiation between skin exposed to the sun and that which is not.
Price
This product comes in an 8.45-fluid ounce bottle. It is available online both direct from the manufacturer and from third-party sites such as Amazon. On the manufacturer's website a discount is given. Cost was originally $25.00 but is now $21.50. This could save the consumer money over the long term. Besides the discount, there are no bundle deals available, which would have rewarded loyal consumers for their support.
Guarantee
Even with our research efforts we were unable to find a manufacturer's guarantee offer of any kind. The concern is that there is no guarantee. This may reflect on the efficacy of the product.
Conclusion of Our Whitening Body Lotion Review
Whitening Body Lotion appears a useful product. Positive aspects include a discount that would help consumers save money. Many reviews have rated this product as above average. However, there are also some negative aspects which should be mentioned. First, there is the lack of any package deals. Second, instructions are too attenuated. Third, there is the lack of a firm guarantee that would help the consumer. This also implies that the product is not as effective as the manufacturer claims it to be. In addition, it should be mentioned that there are many similar skincare products of this kind on the market at this moment. Most of these products have formulas that consists of patented and clinically proven ingredients, solid guarantees that protect the end user, very attractive package deals that save the end user not only money but reward them for their on-going loyalty, as well as concise and informative websites – which differ with this product.
Top investigative research brought to you by the experts at Customer Review.