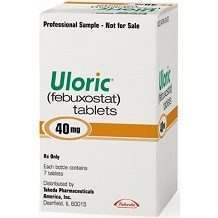 The accumulation of uric acid in the blood can lead to joint inflammation which results from the deposition of monosodium urate crystals (tophi) in the joints or soft tissues. This leads to a rheumatic condition known as gout. Uloric claims to help reduce uric acid levels in the blood to below 6 mg/dL. Uloric is a prescription medicine used to treat gout patients with high uric acid levels. It is not designed for those without a history of gout, even if their uric acid levels are high. Read our full Uloric review for further information about this product.
Ingredients
Febuxostat is the main active ingredient in this product. The inactive ingredients include:
Microcrystalline cellulose
Hydroxypropyl cellulose
Sodium croscarmellose
Opadry II
Dosage
The recommended starting dose of Uloric is 40 mg taken once daily with or without food. For patients who do not achieve a serum uric acid of less than 6 mg/dL after two weeks, it is recommended to increase to 80 mg. Uloric may affect the way certain medicines work, and other medicines may affect how Uloric works, therefore, it is absolutely necessary to tell your healthcare provider about all the medicines you take, including prescription and non-prescription medicines, vitamins, and herbal supplements. Never use this product if you are taking azathioprine and mercaptopurine. Children under 18 years of age, pregnant and breastfeeding women and those with kidney or liver problems should seek advice from a doctor before using this product.
Possible Side Effects
The most common side effects of Uloric include liver problems, nausea, gout flares, joint pain, and rash. Less common adverse reactions include blood and lymphatic system disorders, blurred vision, decreased or increased appetite, reproductive system and breast changes and vascular disorders such as flushing. This is not an exhaustive list of side effects. The Uloric patient leaflet elaborates in more detail.
Price
The price of this product is not stated on the manufacturer's website. As this is a prescription medication, you should find out how much is covered by your health insurance. We found the price online for a supply of 30 tablets to cost around $309. This product will work out very expensive if it is not covered by your health insurance.
Guarantee
Uloric does not come with a manufacturer's guarantee as most prescription medications don't. This means that if the drug does not work for you, you will have shelled out a lot of money and not have any recourse.
Conclusion of Our Uloric Review
This product seems that it could be a decent choice for those suffering from painful gout. However, the product is associated with many serious side effects and should only be taken under the guidance of a doctor. The product is also very expensive depending how much will be covered by insurance, and like other prescription medications, it does not come with a guarantee. This means the product may not work for you and you will not be able to get your money back. There are many other natural products available on the market to deal with gout which are worth investigating. Look for a product that is reasonably priced and comes with a manufacturer's guarantee.
Top investigative research brought to you by the experts at Customer Review.