Gout Cleanse Pain Therapy Review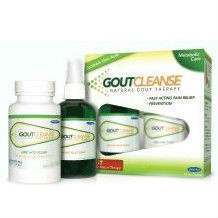 Gout Cleanse is one of the popular choices for people who are looking out for the perfect remedy for a variety of gout symptoms . It is made with the use of natural ingredients, which are promising in terms of providing safe and effective relief against gout. Taking the supplement will help to naturally lower the amount of uric acid present in your body and prevent its crystallization. Aside from lessening the possibility of gout attacks, it can also help in providing relief against pain associated with gout.
Ingredients
Valoneic Acid Dilactone: In one Japanese study, it has been proven that this ingredient is excellent in potent inhibition of xanthine oxidase, which is basically an enzyme responsible for transforming purines to uric acid.
Alkaline Complex: Gout Cleanse also contains iron, potassium, manganese, magnesium, and calcium, which are all essential in being able to maintain healthier bones to prevent gout attacks.
Extracts of Celery Seed: Being considered as a diuretic, celery has long been known for getting rid of toxic acids in the body and having it excreted quickly out of your system.
Extracts of Cherry: Being abundant with flavonoids and anthocyanin, cherries are strong antioxidants. They provide a high level of protection for the cells and can also help in managing the level of uric acid present in the body.
Extracts of Curcumin: This ingredient will basically help to significantly reduce the incidence of pain felt because of gout. It is rich source of antioxidant and anti-inflammatory compounds, which makes it promising in the treatment of gout.
Dosage
According to the instructions from the manufacturer, you should take a capsule during the morning and another capsule at night. It should be taken after eating.
Price
One bottle containing 60 capsules of Gout Cleanse ca be purchased for $39.95. The price already includes free shipping if you live in the United States.
Guarantee
The manufacturer does not have its own website, which means there is no explicit policy on the guarantee of their products. Third party sellers, on the other hand, have their respective policies for return and refund. Generally speaking, however, returns will only be accepted if the bottle is not yet opened. For most people, this is a big drawback as they cannot have peace of mind with regards to how it can provide value for money through its safety and effectiveness in gout treatment.
Conclusion of Gout Cleanse Pain Therapy Review
From what it looks like, the manufacturer might have already stopped producing Gout Cleanse. Online sellers are also low in stock of the said supplement. One of the reasons would most probably be because it is not doing a good job in the market. People are doubtful about it since there is no guarantee of satisfaction, apart from being generally more expensive than other products in the market. There are other products in the market, which, even if they are cheaper, are offered with a money-back guarantee.
Top investigative research brought to you by the experts at Customer Review.