Dragon Herbs Ron Teeguarden's Caralluma Review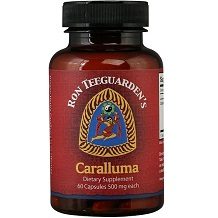 Read our review below about Dragon Herbs' Caralluma. This herb is effective for weight management as it suppresses appetite and also promotes weight loss and fat loss. It can also help you to gain more lean muscle mass and feel more energetic. It further helps to maintain and promote healthy metabolism.
Ingredients
This product only contains one ingredient, namely Caralluma Fimbriata extract. It assists with weight management, slows down fat storage and decreases appetite.
Other ingredients to be found in this formula are rice powder and a vegetarian capsule. It doesn't contain any preservatives, chemical modifications, starch, or gluten. As only one quality ingredient is used, the possible side effects, such as headaches and nausea, often experienced with these types of products can be reduced.
Dosage
One capsule should be taken twice daily. It is not clear at what time of the day the formula should be taken and whether it should be taken with or without meals. From our research, it also seems like the dosage is a bit too low, as a 1600 mg daily serving would be ideal. They recommend a 1000 mg daily serving..
Possible Side Effects
The manufacturer states that this herb is not meant for those who are clinically obese. It is only meant for people who are slightly overweight and who would like to maintain and promote healthy metabolism, reduce weight and suppress appetite. If you are slightly overweight, it is still recommended for you to consult with a healthcare practitioner prior to use.
Price
One bottle that contains 60 capsules can be bought online for $42.00. There is currently no discounts or trial options available.
Guarantee
It was somewhat concerning that we couldn't find any information on a money back guarantee. This might mean that there are some concerns in terms of how effective the product really is.
The Conclusion Of Our Dragon Herbs Caralluma Review
After we reviewed Dragon Herbs' Caralluma supplement, we found that it is an effective product when it comes to weight management. As only one quality ingredient is used, the possible side effects often experienced with these types of products can be reduced.
We do, however, find it quite concerning that the manufacturer does not offer any kind of money back guarantee. We also noted that the daily dosage may be a little bit too low.
Lastly, the manufacturer suggests that the formula should be used alongside with exercise and a healthy diet. If you want to use the product in order to help you to manage your weight, it should be used as part of a bigger health program which includes reduced calorie intake, a well-balanced diet, tonic herbs and more. They also suggest you include other Dragon Herbs products for effective weight loss.
This makes us quite concerned about whether the product is effective on its own. There are many similar products on the market which promotes weight loss and fat loss without having to change a whole lot of other aspects of your life.
Top investigative research brought to you by the experts at Customer Review.