Swanson Best Caralluma Herb Review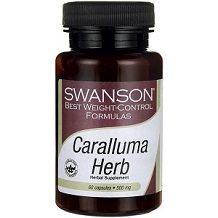 The following review is for Caralluma Herb. This product claims to boost weight loss for you by helping to encourage a healthy appetite and by combating the cravings that might be preventing you from losing weight, while also claiming to have no jittery side effects. The manufacturer of this weight loss supplement claims that this product will give you the best results if you use it with a good low-calorie diet and constant exercise.
Ingredients
Slimaluma (Caralluma Fimbriata Extract) – 500 mg
Slimaluma otherwise known Caralluma Fimbriata is a plant extract that consists of chemicals that are said to suppress your appetite and for this reason, it might help with losing weight. This ingredient may also boost your energy or endurance and it is also believed to help prevent thirst. However, research does suggest that Caralluma Fimbriata extract may have some mild side effects which include stomach pains, stomach upset, constipation and intestinal gas which should ease off after a week of use.
Dosage
The manufacturer advises that you should use this product as a dietary supplement and that you should take one capsule twice per day. It is suggested that you should take these capsules 45 minutes before your meals.
Possible Side Effects
This weight loss supplement does not have any possible side effects according to the manufacturer although, research has advised that the key ingredient used may result in some mild side effects which are said to slowly diminish after roughly a week of use.
Price
Purchasing this product will cost you $17.84 for a bottle of 60 capsules which is a one month supply and you can order it online from the manufacturer's website. It is somewhat disappointing that there are no discounts offered for this product.
Guarantee
There is a 30-day money back guarantee offered by the manufacturer and they state that if you are not completely contempt with the results after using this product, you may return your unused portion for a full refund. It is advised that you will only be refunded two weeks after they have received your return. Unfortunately, the manufacturer has not suggested whether or not they will fully refund the purchase of multiple opened bottles, or if only one bottle may be opened, or if they are only willing to refund one bottle altogether.
Conclusion of Our Caralluma Herb Review
With regards to this product being formulated with a good ingredient that may be effective for weight loss, Caralluma Herb could be considered as a relatively ok product. It is also a positive aspect that the manufacturer shows confidence by offering a full money back guarantee although, it is not clear if this applies to only one or multiple bottles. It is somewhat worrying that research suggests the key ingredient used does have some side effects which the manufacturer has failed to list. There are also no alternative dosage options to possibly maximize or alter your desired results. It is extremely unusual and worrying that the manufacturer has not listed any cautions such as using this product during pregnancy and nursing or safety for children. Based on all the relevant information, this product sadly does not seem to possess significantly superior qualities in comparison to most other similar products.
Top investigative research brought to you by the experts at Customer Review.