ZenVita Formulas Caralluma Fimbriata Review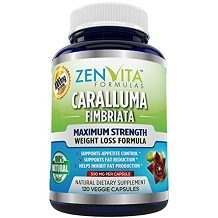 Caralluma Fimbriata by ZenVita Formulas is a supplement for promoting weight loss. It features extract of a cactus-like plant known as Caralluma fimbriata as its main ingredient and, according to its manufacturer, aims to help you lose weight in two ways. First, it is said to curb your craving for food and, second, it is claimed to prevent fat from accumulating in the body. This, says the company, makes it a powerful weight loss formula, one that is all-natural and made in the United States. Are you looking to give a Caralluma fimbriata supplement a try? Take time to read our ZenVita Formulas Caralluma Fimbriata review to see if it is the real deal.
Ingredients
The name of the supplement reflects the only ingredient present in it: Caralluma fimbriata. The formula contains 1000 mg of the herb per serving (two capsules). People in South India have long used this plant to suppress appetite and promote endurance and was supposedly used when embarking on long hunting trips. Caralluma Fimbriata interferes in the process through which the hypothalamus sends messages to your brain to inform it of hunger. This way, it suppresses appetite and helps you to lose weight. ZenVita Formulas says the ingredient also contains the phytochemical pregnane glycosides. This prevents the enzyme citrate lyase from instructing the body to produce more fat. This also forces your body to burn existing fat reserve for energy.
Dosage
The serving size of Caralluma Fimbriata is two veggie capsules. It appears like you can split the daily dosage into two. Also, it seems the capsules are to be taken roughly half an hour before you have your meals.
Possible Side Effects
You may not experience any side effects if you use Caralluma Fimbriata according to recommendation. But individuals with underlying medical conditions need to consult a doctor before use. The formula is not meant for those under 18 years of age or for pregnant or nursing women or people at risk of high blood pressure and heart disease.
Price
The amount at which you buy ZenVita Formulas Caralluma Fimbriata depends on where you buy. At the time of our review a 60-day supply (120 veggie capsules) was available on Amazon for $18.99.
Guarantee
We did not find any mention of a money back guarantee for this product while researching for this review. That is certainly of concern regarding the company's faith in its own product.
Conclusion of Our ZenVita Formulas Caralluma Fimbriata Review
When it comes to Caralluma fimbriata supplements for weight loss, this looks like an ok choice. It is 100% natural and contains no additives, artificial ingredients or preservatives. The production takes place in the United States and it had received a good proportion of positive ratings on Amazon, at the time of our review. And it's priced competitively. But, based on our research, ZenVita Formulas Caralluma Fimbriata doesn't come with a money back guarantee. This is a drawback, and all the more so considering we did see customer reviews that said it didn't work.
Top investigative research brought to you by the experts at Customer Review.