Vox Nutrition Caralluma Review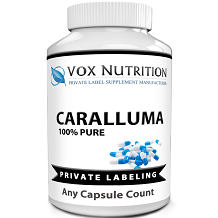 This review is for Vox Nutrition Caralluma and will explore the facts about this product. The manufacturer claims that it will benefit weight loss by encouraging your body to burn existing fat reserves by preventing the process of fat production by restricting enzymes which should result in weight loss. This product also claims to assist weight loss by inducing false feelings of fullness while also containing your appetite.
Ingredients
Caralluma is a plant extract that is believed to prevent and control hunger as it contains chemicals that may help to prohibit appetite and is also thought to eliminate thirst. The use of this plant extract is also said to result in boosting your endurance. Unfortunately, research does suggest that using this ingredient may cause some mild side effects which include constipation, stomach upset, stomach pains and intestinal gas. It is also advised by research that these side effects are normally supposed to disappear after a week of use.
Dosage
The manufacturer suggests that this product should be used as a dietary supplement and instructs that you should take two vegetarian-friendly capsules daily. It is advised that these capsules should be taken roughly half an hour prior to a meal along with 8 oz of water for best results. Alternatively, you could use this product as instructed by a healthcare practitioner.
Possible Side Effects
Although the manufacturer does not seem to clearly list any possible side effects, this product is not exactly suitable for everyone considering that it is cautioned that pregnant and nursing women, persons under the age of 18, and individuals who have medical conditions should rather not use this product without consulting a healthcare practitioner. It should also be taken into account that research suggests the key ingredient used does have side effects that should normally disappear after a week of use however, it is a good idea to consult a healthcare practitioner if you do experience any side effects.
Price
The manufacturer's website suggests that for customized and lower prices, you can contact them directly by phone, fax, email or their provided form. This could be very disappointing for most of us who would prefer not to go through a potentially time-consuming process simply to learn the cost of a product, especially if you are not entirely sure about whether or not you will actually end up buying it.
Guarantee
Unfortunately, the manufacturer does not appear to offer a money back guarantee, which is rather concerning because this may imply that the manufacturer might not be all that confident about the quality and effectiveness of this product.
Conclusion of Our Vox Nutrition Caralluma Review
This dietary supplement does seem to be a relatively ok product when considering that its key ingredient could be beneficial for weight loss. The cautions and dosage instructions provided are also clear and fairly simple to follow although, it is disappointing that you need to go through a potentially time-consuming process simply to find out how much it will cost you. The manufacturer does not offer any kind of guarantee and there are no customer reviews on their website, therefore, you should probably consider other more suitable products.
Top investigative research brought to you by the experts at Customer Review.