aSquared Nutrition Caralluma Fimbriata Review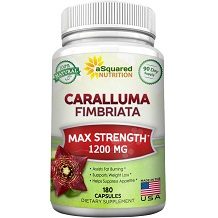 Fighting off hunger pains while on a diet is often times challenging and what can hold a person back from reaching their weight loss goals. This review examines aSquared Nutrition Caralluma Fimbriata 1200 mg that claims to assist fat burning, suppressing appetite, supporting weight loss and increased energy levels. Caralluma is a cactus plant that can be found in parts of Europe, Asia, and the Middle East. It was previously eaten in its raw form by Indian tribes who would chew chunks of Caralluma to suppress their hunger during times where there was a hunger or during a long hunt. In modern times, Caralluma is used as a weight loss aid and consumed to suppress hunger. It also may quench thirst and increase endurance and energy levels. aSquared Nutrition claims their Caralluma Fimbriata is 100% natural and highly concentrated. Their bottles come with 180 capsules which is a 3 month supply if taken as recommended.
Ingredients
The only active ingredient in this supplement is Caralluma Fimbriata. Chemicals in Caralluma are thought to decrease appetite, quench thirst and increase endurance.
Dosage
aSquared Nutrition recommends taking 2 capsules daily. For best results, they recommend taking 20-30 minutes before a meal with an 8 oz glass of water or as instructed by your doctor. They also advise consulting with your doctor before taking this or any other dietary supplement.
Possible Side Effects
aSquared Nutrition does not list any potential side effects that come with taking Caralluma. In our research, we found common mild side effects like upset stomach, intestinal gas, and constipation. These side effects are expected to go away once the body gets accustomed to it, usually after a week.
Price
aSquared Nutrition offers one 189-capsule bottle of Caralluma Fimbriata for $29.99. They offer bulk package deals as follows, two bottles at 10% off for $26.99 per bottle, 3 bottles are 20% at $23.99 per bottle and 4 or more bottles are 25% off at $22.49 per bottle.
Guarantee
aSquared Nutrition offers a 30-day money back guarantee.
Conclusion of Our aSquared Nutrition Caralluma Fimbriata Review
aSquared Nutrition Caralluma Fimbriata appears to be a decent supplement. It offers slightly more milligrams than some of its competitors and comes in easy to swallow capsules. However, the general recommended daily dosage is 1,600 mg twice daily so unfortunately, this product still falls short because it only has 1,200 mg. Considering this product can be taken for years, aSquared Nutrition offers satisfactory bulk purchasing deals and packages making the price per capsule reasonably priced. However, their guarantee is limiting as it only offers a 30-day money back guarantee which isn't sufficient time to see results. Dieting and weight loss is something that demands maximum efforts and with other Caralluma supplements that offer the actual recommended daily dosage available on the market, we are steered away from investing in aSquared Nutrition Caralluma Fimbriata as a viable source of Caralluma to help suppress appetite and make losing weight easier.
Top investigative research brought to you by the experts at Customer Review.