Research Verified Yacon Extract Review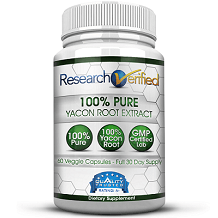 With obesity on the rise in today's society, it is no wonder there are so many weight loss supplements emerging on the market. These supplements all claim to do the same thing; help you reach your weight loss goals. However, not all products are made the same and it is very important to look for a product that will be effective. This review will discuss a product called Research Verified Yacon Extract; a weight loss supplement made from pure yacon root extract. The purpose of this review is to help you decide if this product will be effective or not and if it is worth buying.
Research Verified is a company that formulates their products according to what research has found to be effective. This means that Research Verified Yacon Extract is based on a formula proven to be effective through clinical trials. It contains 100% pure ingredients, which is what is doctor recommended, and it is manufactured in a facility that is both FDA registered and cGMP certified. You can read reviews about Research Verified to see what this manufacturer has to offer.
Ingredients
There is only one single ingredient found in this product which is 1600mg of yacon root extract containing 50% FOS (Fructooligosaccharides). This is the exact formulation found to provide positive results in clinical studies. The benefits of FOS include reduced weight, suppressed appetite, higher energy levels, improved digestion, healthier blood cholesterol and a stronger immune system.
There are no artificially added ingredients or any binders or fillers in this product.
Dosage
The recommended dosage is to take two capsules a day. You should take one capsule, twice a day, 30 minutes before meals with a full glass of water.
Possible Side Effects
As this product contains pure and natural ingredients, there are no mentioned side effects associated with it. However, women who are pregnant or nursing or anyone with an underlying medical condition should speak to their doctor before trying this product for the first time.
Price
You can buy Research Verified Yacon Extract online directly from Research Verified's website and Amazon. There are many attractive purchasing options available including:
One bottle for $48.
Three bottles for $120.
Six bottles for $198.
The Research Verified website is protected by Norton, so you can rest assured that you are making a secure purchase.
Guarantee
Research Verified offers one of the greatest guarantees in the industry. While most companies offer a 30-day money back guarantee, Research Verified offers a 365-day money back guarantee. That gives you a whole year to try out the product to see if it works for you. If you are not happy with the results, you can return both opened and closed bottles for a refund.
Conclusion of Our Research Verified Yacon Extract Review
This product seems to check all the boxes when looking for an effective weight loss supplement. It is supported by real facts, the ingredients are of high quality and produced in a certified lab, and it provides the correct dosage to give promised results. The price is also good value for money and it comes with an excellent money-back guarantee for the chance that you are not actually happy with the results. Except for the extra weight, there doesn't seem much to lose with trying this product out.
Top investigative research brought to you by the experts at Customer Review.