Schwartz Bioresearch Caralluma Fimbriata Review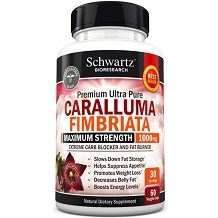 According to Schwartz Bioresearch, its Caralluma Fimbriata is a weight loss and fat burning supplement. It is said to contain a 10:1 Caralluma fimbriata extract which enhances its strength, working mainly as an appetite suppressant, keeping your craving for food in check to help you lose weight. The manufacturer says it reduces fat storage and belly fat while increasing your energy levels. Schwartz Bioresearch says its team of doctors and researchers formulated the product to help people lose weight naturally without side effects. According to it, production also takes place in an FDA-registered laboratory in the United States. Continue reading our Schwartz Bioresearch Caralluma Fimbriata review below to get all the details and to help you decide whether or not to purchase it.
Ingredients
This formula features only 1000 mg (in two capsules) of Caralluma fimbriata as a 10:1 extract. The only other ingredient is vegetable cellulose, which is used for the capsule. The main ingredient functions as a powerful appetite suppressant. It keeps hunger down to facilitate weight loss by affecting the hypothalamus. Caralluma fimbriata also helps to burn fat in the body for energy production.
Dosage
The suggested dose for adults is two veggie capsules per day. You are to take each one at different times with an 8oz glass of water. It is best to take each around 20-30 minutes before meals for improved results. Schwartz Bioresearch says usage can, alternatively, be as advised by a physician.
Possible Side Effects
Caralluma Fimbriata is not entirely free of side effects, even though it is said to be all-natural. Adverse reactions users may experience include abdominal pain, headaches, nausea, stomach cramps, constipation, flatulence, dizziness and jitters. Occurrence of these, however, is said to be rare. This also varies among individuals.
Pregnant and nursing women and children less than 18 years should consult with their medical practitioner before using this product. This caveat applies to individuals with known medical conditions as well.
Price
A bottle of Schwartz Bioresearch Caralluma Fimbriata (60-count) sells for $16.95 on the manufacturer's website. The company says you can only buy the product online. There was no bulk discount offer available at the time we researched the product for this review but the product was available on Amazon for $14.60.
Guarantee
Schwartz Bioresearch offers a money back guarantee on its Caralluma Fimbriata. According to it, you can get your money back if you don't like the supplement and submit a refund request. We couldn't find the conditions that apply to this guarantee. So you want to make sure you get a clarification on that from the company before you buy.
Conclusion of Our Schwartz Bioresearch Caralluma Fimbriata Review
This is a decent offering if you are interested in using a Caralluma fimbriata supplement for promoting natural weight loss. Our opinion is influenced by the production in an FDA-approved facility under GMP standards, which may be taken as a sign of quality. The money back guarantee could be useful, in case this product doesn't work for you; but without details on how long it is in place or whether you can return opened bottles, there is some ambiguity here. On the downsides, however, over 600 customer reviews on Amazon at the time we wrote this article, rated this product, overall, as average at best. We note with concern that some 28% of customers rated it negatively. We feel more comfortable with a product when its negative ratings are 20% or less. This product may be ok but we don't think it is not the best you can get.
Top investigative research brought to you by the experts at Customer Review.