IRAE Anti Wrinkle Night Serum Review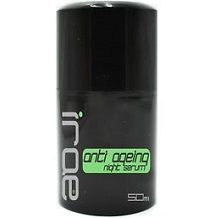 IRAE Anti Wrinkle Night Serum is a product designed to moisturize the skin and help the body retain moisture. The product is argued to penetrate deep into the skin and contain a concentrated formula of ingredients. In this review, we have looked at whether or not the product is as effective as the manufacturer makes it out to be. The information outlined in this review will help you determine if this is the right product for you and ensure that you make a wise consumer purchase.
Ingredients
Organic Jojoba Oil
Organic Argan Oil
D-Alpha Tocopherol (Natural Vitamin E)
Organic Coconut Oil
Vitamin A
Vitamin C
Like many competitor moisturizing serums on the market, this formula contains Vitamin E, A, and C. These powerful vitamins play a vital role in the body. They work to support the production of collagen which reduces the appearance of wrinkles as well as protect the skin from the harmful effects of external aggressors. Over and above these vitamins, the formula contains a variety of beneficial oils. Organic Jojoba Oil works like sebum, the natural oil produced by our skin, and regulates oil balances. Organic Argan Oil contains omega fatty and linoleic acids which work to soften the skin and reduce irritation. Organic Coconut Oil penetrates the skin better than most oils and helps hold moisture in. These ingredients may be beneficial and the manufacturer has included several others, however, they do not stipulate which ingredients are active. Therefore, we cannot ascertain which ingredients are playing a positive impact on the product's ability to deliver results. Another concern that came to our attention is that the formula lacks clinically proven patented ingredients that can be found in alternatives on the market. In saying so, the formula may be inferior. Furthermore, there is no clear cGMP certification which leads us to believe that the product may not have been produced following quality practices found in companies that do hold the certificate.
Instructions
There are vague instructions about how to use this product for best results. Users are advised to apply a small amount after cleansing and gently rub in until completely absorbed. The manufacturer does not inform customers as to how often this should be done or if there are any precautions to take before first application. Furthermore, they omit the concentrations of ingredients in their formula. Therefore, we are unsure of the potency of this formula.
Price
A 30ml bottle of this product retails online, from the manufacturer, for $16.78. At first glance, this is a very appealing price to pay. That said, the low price is most likely due to the fact that the formula omits patented ingredients altogether. This may render the formula inferior to competitor products that do contain patents.
Guarantee
The manufacturer provides a short guarantee of 14 days to cover faulty deliveries. This guarantee is not extended to partially used products that customers are unhappy with. This showcases a lack of assurance that the product will, in fact, work. This brings the quality and efficacy into question. Whatsmore, there are practically no customer reviews to support the product quality. This makes it extremely difficult to assure its efficacy.
Conclusion of Our IRAE Anti Wrinkle Night Serum Review
This product may seem like an ideal choice. It contains many ingredients that work to improve skin complexion and reduce wrinkles as well as retails for a low price. However, the low price is likely accounting for the lack of quality patented ingredients. The guarantee is short and does not cover unsatisfied customers. Furthermore, the lack of customer reviews on third-party sites makes it difficult to determine product efficacy. For these reasons, we do not recommend IRAE Anti Wrinkle Night Serum.
Top investigative research brought to you by the experts at Customer Review.