Lotus Aroma Youth Anti-Wrinkle Night Serum Review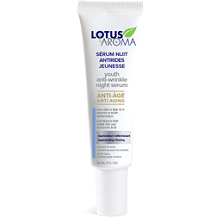 In today's review, we will examine the product Youth Anti-Wrinkle Night Serum. This product is made by Lotus Aroma and claims to restore and rejuvenate your skin. It can also deeply moisturize and helps to diminish the appearance of fine lines by plumping the skin. Ultimately, your skin becomes more hydrated, looks younger and feels smoother. If you are interested in this product and would like to know more, read the rest of this review below.
Ingredients
Natural AHA and BHA
Vitamin E
White Willow Bark Extract
Orange Citrus Extract
Vitamin C
Witch Hazel Floral Water
German Chamomile Extract
This product consists of 100% plant-derived active ingredients that still manage to pack a punch. It contains 40% organic ingredients and up to 77.2% active ingredients, meaning that it will be very effective if used on a regular basis. The natural AHAs and BHAs are restorative complexes derived from citrus that helps to renew and replenish the skin. It defers the skin's ageing process and helps you to look younger. Vitamin E and Hyaluronic Acid helps to keep the skin moisturized but also provides antioxidants that help to fight off free radicals. The acid helps to prevent and diminish the appearance of fine lines and wrinkles. Although this product has very effective ingredients, it is not mentioned whether they are patented and clinically tested or not.
Instructions
It is recommended that you apply this serum in the evenings before retiring for the night. Apply 2-3 drops of the product on a clean face and neck and leave it for 5 minutes to be fully absorbed into the skin. Unfortunately, this product does not come in an airtight pump bottle, which makes handling and applying it harder.
Price
Unfortunately, you cannot buy this product directly from the manufacturer's website. It is also not available on Amazon, so we could not ascertain the price for this product. Without crucial information like this provided to customers, it will be impossible to figure out if buying this product is the right decision for every individual. Without this information, we also can't tell whether this product is competitive price wise.
Guarantee
After extensive research, we were unable to identify any guarantee policy relating to this product. This forces the buyer to purchase the product at 3rd party retailers that hopefully do have a refund policy. This also reflects poorly on the product and shows a lack of confidence in the efficacy of the product.
Conclusion of Our Youth Anti-Wrinkle Night Serum Review
We like that this product has up to 77.2% active ingredients incorporated into every bottle. We also like that this product is fairly easy to use and that is an environmentally-friendly product. However, the lack of information when it comes to the price of the product makes it impossible to make an informed decision if you really want to buy the product. The lack of a decent guarantee policy also makes us wonder if this product is really effective.
Top investigative research brought to you by the experts at Customer Review.