Sally B's Skin Yummies Antioxidant Nighttime Serum Review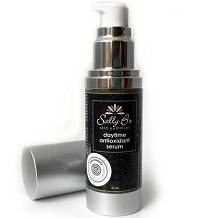 Today we are looking at the product Antioxidant Nighttime Serum manufactured by Sally B's Skin Yummies. This review will look at what the aim of the product is as well as the price and ingredients incorporated into the product. This night serum aims to restore and turn back the ageing clock on your skin. It claims to be easily absorbed and offers anti-inflammatory properties that help to tone your skin. It also improves your overall texture and prevents damage caused by harmful sun rays. If you are looking for the perfect night serum and wonder if this product might be it, then read the rest of this review below
Ingredients
Fractionated Coconut Oil
Organic Licorice Root Extract
Organic Black Cumin Seed Oil
Organic Essential Oil of Lavender
Organic Sea Buckthorn Oil
Ubiquinone
Vitamin E
Organic Vegetable Lecithin
Organic Essential Oil of Cypress
Fermented Radish Root
This product is vegan-friendly and gluten-free. It is also cruelty-free and offers deep moisture for all of your skin cells. Vitamin E and Black Cumin Seed Oil helps to neutralize free radicals that can potentially cause cancer. Vitamin E and Buckthorne Oil is known to intensely moisturize and also helps to calm aggravated or inflamed skin. Oil of Lavender and Oil of Cypress helps to tone and texture leaving you with a glowing, smooth skin. Hyaluronic Acid and Coconut Oil helps to fight the appearance of fine lines and wrinkles to give you a younger look. Although these ingredients are beneficial, the manufacturer does not mention the amount of active ingredients in this product. Competitive brands offer up to 10% active ingredients in their night serums. It is also not mentioned whether this product's ingredients are patented.
Instructions
It is recommended that you first cleanse your skin before applying this product. Apply 1-3 drops of serum to the face and neck and allow time for it to fully absorb. This product works best if applied right before bedtime. This serum comes in an airtight pump bottle and is fairly easy to apply.
Price
You can purchase this product for $48 on the manufacturer's website. Each bottle contains 30ml of product. The manufacturer of this product offers a reward program that helps you earn points with every purchase. However, there are no discounts offers given for bulk purchases. If your order total is over $75 then you will qualify for free shipping.
Guarantee
If you are not 100% satisfied with your purchase then you can return your product within 21 days of the purchase date. Shipping and handling costs will not be reimbursed. Only products ordered directly from the website and that still contains 80% of the contents will be refunded.
Conclusion of Our Antioxidant Nighttime Serum Review
We like that this product contains a lot of natural ingredients. We also like that it is vegan-friendly and cruelty-free. However, we feel that the lack of discounts make this product rather expensive, especially if you are considering using it long term. The guarantee policy is also not competitive, seeing that you only get 21 days in which to return your product. Other leading brands offer up to 365 days in which to return unwanted products.
Top investigative research brought to you by the experts at Customer Review.