Infinite Lash Eyelash Enhance Serum Review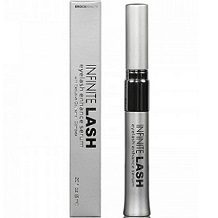 This Infinite Lash Eyelash Enhance Serum review focuses on the finer details of the product, such as its ingredients and price to determine if it is the best eyelash/eyebrow serum for customers to consider purchasing. This product is designed to provide customers with thicker, fuller and longer lashes that grow the natural way. This product hydrates and enhances the health of the cells which are responsible for the growth of eyelashes and eyebrows.
Ingredients
Hyaluronic Acid
Hydrolyzed Wheat Protein
Myristoyl Pentapeptide-17
Myristoyl Pentapeptide-16
Glycyrrhiza Glabra Root Extract (Licorice)
Camelia Sinensis Leaf Extract (White Tea)
Euphrasia Officinalis Extract (Eyebright)
Rosa Centifolia Flower Water (Rose)
Tocopheryl Acetate
Retinyl Palmitate
Ascorbic Acid
Panthenol
The ingredients in this product basically fall into three categories. There are ingredients which are included to nourish the skin cells that produce eyelashes and eyebrows so that they grow out stronger. There are ingredients which are antioxidants that protect the eyelashes and eyebrows from becoming damaged by the harsh environmental chemicals. There is also a direct anti-inflammatory ingredient, which is licorice.
Instructions
There are no instructions in the manufacturer's description of this product but we have noted that it comes with an applicator brush similar to that of mascara products. This applicator can be used to apply on the product to the eyelashes and eyebrows. From what we have determined from reviews of similar products it is best to apply this at the base of the hairs.
Price
Customers can order a 3-month supply for the amount of $59. A 3-month supply equates to one bottle which contains 20 fluid ounces of the product. A 6-month supply which is 40 fluid ounces will cost $118, which is essentially just double the 3-month supply. Some manufacturers offer discounts as more products are bought together which it appears this one does not. Even their autoship option does not offer any discounts.
This manufacturer does however have a point system which could potentially award customers with discounts.
Guarantee
If a customer finds that they are not satisfied with the product they can return it within 30 days from the day that they purchased it. This means that the manufacturer must actually receive the product within 30 days. If one considers that there are a few days for delivery after purchase and a few days for delivery on return, then this guarantee is too short. There is also the risk that the customer loses out on a guarantee due to delayed return shipping which is not the customer's fault. This guarantee policy is certainly not one of the best we've seen.
Conclusion of Our Infinite Lash Eyelash Enhance Serum Review
This product contains quite a long list of ingredients, and the majority are supported by scientific research. It is difficult to say how easy this product is to use because the manufacturer doesn't provide any instructions in their description of it. The price of this product is fairly reasonable but the manufacturer offers supposedly different pricing options that are really actually the same. This means that it is actually more expensive and takes more effort to use this product over the long term.  The biggest problem with this product is that the guarantee is too short and can easily catch customers out, which is not fair on them.
Top investigative research brought to you by the experts at Customer Review.