Essy Eyebrow Growth Serum Eyelash Enhancer Review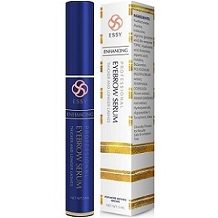 We're excited to review Eyebrow Growth Serum Eyelash Enhancer by Essy because the company promises that this serum will boost natural hair growth so you get fuller, thicker, and denser eyebrows and eyelashes. Moreover, the company says it uses a 'unique' formula. It says it targets brittle and sparse eyelash and brow growth by making it stronger and healthier. An analysis of the ingredients is the first step towards seeing if this is likely to be true. Essy asserts that users saw a 55% increase of length and thickness within six weeks.
Ingredients
Some key ingredients are:
Arginine
Coerulea flower extract
Glutamic acid
Both arginine and glutamic acid are amino acids. These help skin retain a fair amount of moisture and stabilize the skin's pH balance. Ginseng helps as an antioxidant, so it fends off environmental aggressors that could speed up aging. Coerulea flower extract is a natural moisturizer so softens dry, flaky hair and skin. There do not seem to be many ingredients promoting growth though, and there are a few high-profile ingredients missing. This includes the all-important vitamin E. Besides protecting you from aging, it also boosts new growth. Vitamin B5 is also one of the best for regenerating and therefore promoting growth. It is absent along with resveratrol, one of the most effective antioxidants. When it comes to Marula oil, the benefits cannot be overstated, as documented in scientific studies. This is another key component missing, along with pea sprouts.
Instructions
The instructions are clear and easy to follow. Clear and dry your skin. Sweep the applicator brush along your eyebrows and/or your eyelashes, as though applying eyeliner. Only apply the serum to the roots. Allow it to absorb into your skin before applying other products. Do this once a day. You can apparently expect a 20% increase in the thickness of your eyebrows after 4 weeks, and at least a 45% increase after six weeks of regularly using the serum.
Price
You'll pay $26.95 for the wand if you purchase it from the product website online, with the normal price being indicated as $79.99. There do not appear to be bulk packages or discounts for multiple serum wands or other incentives.
Guarantee
Essy mentions that if you are not satisfied, there is a replacement or refund. But, without further details such as even the most basic, namely who to contact or how to go about enquiring regarding the policy, let alone initiating the refund, the 'policy' is virtually meaningless. We would go so far as to say that the mere statement that there is a refund policy, provides the consumer with no factual peace of mind. Further crucial information such as how long you have to return an item, and under what circumstances, are not addressed; neither is the matter of who will pay the return shipping fee.
Conclusion Of Our Eyebrow Growth Serum Eyelash Enhancer Review
There are a few vitamins in this formula that will help to boost growth. The amino acids included are also essential. However, there are a number of potential problems, the first being a number of high profile, clinically proven ingredients, including Marula oil and Vitamin B5, that have not been included. Secondly, the company makes many exciting claims which are seemingly not backed up by any independent reports or evidence. This becomes worrying in the light of consumer feedback, which has almost unanimously indicated that the serum underperformed – in other words, consumers are alleging that the serum simply does not work. Thirdly, we could find no evidence of GMP certification regarding the manufacturing process, raising concerns about quality control despite the company's assertions to the contrary. Fourthly, the guarantee, as worded, is vague and feeble. Given this combination of issues, we do not view this purchase as a risk-free one that will deliver on effectiveness.
Top investigative research brought to you by the experts at Customer Review.