Alpha-H Liquid Gold Intensive Night Repair Serum Review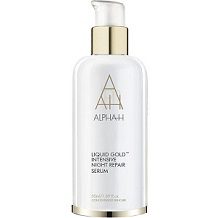 This product review gives information about a product called Alpha-H Liquid Gold Intensive Night Repair Serum. This product is designed as an anti wrinkle cream specifically to help women who are going through menopause or who have already gone through it. It lightens and plumps the skin to get rid of signs of aging like wrinkles and dark spots. It also protects the skin from further damage and aging due to environmental exposure.
Ingredients
Glycolic Extract
Retinyl Acetate
Palmitoyl Tripeptide 5
Sodium Hyaluronate
Vitamin E
Glycolic acid is a compound derived from sugarcane. It easily enters the skin cells and plumps them up from within. It also acts as a good exfoliating agent helping to remove dead skin cells which encourages the replenishment of the skin by new skin cells. The next two ingredients are vitamins which can nourish the skin cells and act as antioxidants. Vitamin E is also an antioxidant. Antioxidants stop the harsh oxidizing agents that are present in the environment from damaging the skin cells and causing accelerated aging. Palmitoyl tripeptide 5 is a direct signaling molecule that causes the cells to produce more collagen. Hyaluronic acid gets into the space between the cells and plumps up the skin from there.
Instructions
The product comes with a pump lid. Two to three pumps should be placed on the fingertips and then massaged into the face neck and decolletage (the upper part of the chest). The eye area should be avoided.
The manufacturer suggests using this product in conjunction with their own moisturizer. We believe a product should perform all the necessary functions with its own ingredients and not rely on other product as this is more tedious and expensive for a customer.
Price
1.69 fluid ounces of the product can be purchased online for $99. The price does not appear to include the charge for delivery and there are no direct discounts available on this product. Some manufacturers offer discounts for buying bulk orders of their products or for subscribing for a regular order, which makes these products more accessible than this one.
The manufacturer does however has a newsletter that customers can sign up for to receive promotional offers.
Guarantee
The manufacturer has a quality policy but we were unable to find any evidence of a guarantee for this product. In our experience, manufacturers who are very open and upfront about the guarantee in their product description are very confident that their product will work. On the other hand, when manufacturers do not offer a guarantee or are not open about it, it places that risk on the customer that if the product does not work,  the manufacturer doesn't suffer any consequences.
Conclusion of Our Alpha-H Liquid Gold Intensive Night Repair Serum Review
This product contains a good collection of ingredients and the instructions are easy to follow. We do have a number of concerns about this product though. The manufacturer admits that this product is unable to fulfill a moisturizing role, and so customers are forced to buy a separate product which is more expensive and tedious. Not to mention the price of this product is quite high especially considering that the manufacturer doesn't offer direct discounts. Lastly, if a customer is not happy with the results then they are just stuck with the product and less money because there's no guarantee on this product.
Top investigative research brought to you by the experts at Customer Review.