Boost Lash Eyelash Growth Serum Review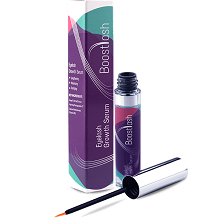 This review will take a close look at a product called Boost Lash Eyelash Growth Serum. The product is intended to help increase the volume, lengthens and fortifies all types of lashes. According to the manufacturer, the product uses a unique ingredient that coats lashes and helps to promote strand softness, volume, and enhanced growth.
Furthermore, they claim that  this eyelash growth serum boosts and regenerates lashes in a very short space of time, and is recommended by many beauty specialists.
Ingredients
Vitis Vinifera
Vitamin B 5
Panthenol
The active ingredients get absorbed into your skin, and penetrate deeply into your lash follicles. This then nourishes eyelash roots, produces thicker and longer lashes. The ingredients also work by coating the lashes, which aids in enhanced growth, strand softness, and increased volume.
Instructions
Carefully remove eye-make up with oil-free make-up remover, and ensure that the skin around the eyes is dry.
Gently apply this serum on your upper or lower eyelash, before bedtime or before putting on makeup in the morning.
Price
You can purchase this serum through the manufacturer's website for a discounted price of $49.95. This is is a reasonable price when compared to most products that we have reviewed. An expensive eyelash product costs around $80.00. It must be noted, however, that this is a discounted price, and it is not indicated how long the discount promotion will be valid for. Its usual price is $59.95. The cost of shipping and handling is $5.95.
You can also purchase the serum through other third-party retailers for a price of around $52.00. Nonetheless, it was out of stock on Amazon during our research.
Guarantee
The manufacturer offers a 60-day money-back guarantee. If you are unsatisfied for any reason, you can return the serum within the specified period for a refund.
Conclusion of Our Boost Lash Eyelash Growth Serum Review
Boost Lash Eyelash Growth Serum appears to be a promising product. All the ingredients in it are natural, its price is reasonable, and it is backed by a 60-day money-back guarantee. This is all good, however, it is important that you pay attention to the guarantee information. It is not indicated whether or not they will accept an already used item. It is quite obvious that if a customer is unsatisfied with the results, they would have already used the product. Therefore, the container will not be full.
Furthermore, most of the customer reviews about Boost Lash Eyelash Growth Serum are critical. We read them on Amazon, and on another third-party retailer's website. Some customers claim that it does not work, some say it caused their eyes to swell, while some say that their lashes became thinner.
This is a big concern, and what makes it even a bigger concern is that all the consumer reviews on the manufacturer's website are positive. Remember that the manufacturer has all the editing rights to their website, therefore, they can easily manipulate the content. It is always better to believe reviews outside the producer's website. Due to these concerns, we recommend that you look for another product.
Top investigative research brought to you by the experts at Customer Review.