HairGenics Lavish Lash Review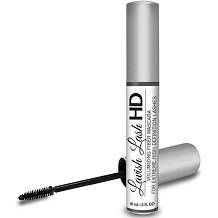 In the following review the product Lavish Lash will be examined. This eyelash and eyebrow serum is manufactured by HairGenics, also known as HairGenics LLC. This company claims that their product will enhance the thickness, density, and length of eyelashes, while giving them a healthy shine. This product may be used on both the top and bottom eyelashes, as well as on the eyebrows. Continue reading this review to learn more about this product, such as the ingredients, the instructions of how to use this product, the guarantee, and the price of this product.
Ingredients
Sodium chloride
Benzalkonium chloride
Citric acid
Disodium phosphate
Cellulose gum
Swertia japonica extract
Biotin
Two ingredients ─ panax ginseng and swertia japonica extracts ─ are known to help brow and lash growth. Panax Ginseng, also known as "genuine ginseng", is used for various complaints and conditions, including nourishing the eyelashes. Swertia japonica boosts growth of new eyelashes. It also provides vitamin B and other antioxidants that nourish the adjacent skin. However, this product lacks peptides or ingredients that could assist to hold moisture, affording better results.
Instructions
User instructions are clear. The product should be applied every evening on clean skin free from make-up or oils. A thin line of product should be applied to top and bottom eyelash lines, as when applying eyeliner. This product may also be used on eyebrows. Applied to lower lashes, product may come in contact with the eyes. Clean water should be used to wash eyes. This product should be applied for a period of 60 – 90 days before results are noticed.
Price
This product is available online directly from the manufacturer's own website. A 3-ml container costs $29.99, discounted from $49.99. The manufacturer offers no bundle deals for the consumer.
Guarantee
Irrespective of our research efforts we were unable to locate a guarantee for this product. This is a concern as this may imply that the product is not as effective as the manufacturer claims it to be.
Conclusion of Our Lavish Lash Review
Lavish Lash is a promising product: it is available online at a discounted price and it contains worthwhile ingredients. However, there are also some concerns about this eyelash enhancing product. There are no guarantees or bundle deals which could help to reward loyal clients. More so, this product lacks peptides or ingredients that could assist in retaining moisture, giving better results. The company website is insufficiently informative. Much of the information is not clearly stated, which is a concern. The consumer should have access to concise and lucid information. Optimal results may then be obtained and informed choices made about a product. Therefore, even though this merchandise has some optimistic aspects, it also have numerous undesirable aspects that should be considered. What should also be well thought-out is that there are so many comparable goods on the market at this time. These are goods that offer better quality ingredients that are patented in addition clinically proven, firm guarantees, striking package deals with reductions, in addition informative websites.
Top investigative research brought to you by the experts at Customer Review.