PlumeScience Lash and Brow Enhancing Serum Review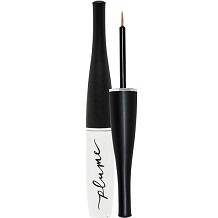 This review evaluates the effectiveness of PlumeScience Lash and Brow Enhancing Serum, which promises to extend the life of eyelashes and give them more fullness. It is designed to stimulate the follicles to produce eyelashes and allow them to grow out with more volume and strength. Naturally thicker and longer lashes may reduce the need for mascara or false eyelashes and the effect lasts much longer. The product is said to have the same effect on eyebrows.
Ingredients
Aloe Barbadensis Leaf Juice
Ricinus Communis Seed Oil
Tussilago Farfara Flower Extract
Achillea Millefolium Extract
Cinchona Succirubra Bark Extract
Tocopheryl Acetate (Vitamin E)
Honey Extract
Prunus Amygdalus Oil
Nasturtium Officinale Extract
Tropaeolum Majus Extract
Coleus Forskohlii Root Oil
Carya Ovata Bark Extract
Many of the ingredients especially the aloe vera are rich in vitamins and minerals and also have other properties that can fight off bacterial and fungal infections. The castor oil contains Omega fatty acids and proteins that provide the follicles with the necessary nutrients they need to grow better. Another advantage of some of the vitamins present in this extract and the pure vitamin E included is that they have an antioxidant effect. This means that they reduce inflammation and damage to the follicle. Some of the plant extracts like Nasturtium officinale and Tropaeolum majus help to produce keratin, Vital protein for strength in lashes.
Instructions
PlumeScience Lash and Brow Enhancing Serum can be applied twice a day, in the evening and morning. Make sure to shake the bottle well before use and apply to clean lashes and brows. If at any point irritation occurs, discontinue use of the product.
Price
0.17 fl oz of PlumeScience Lash and Brow Enhancing Serum can be bought online for $95. There is an extra charge for shipping. Customers can sign up with the manufacturer to receive special offers, but there is no subscription service to receive a regular order. The price of this product is a bit steep compared to others with no major evidence of discounts.
Guarantee
All products from the manufacturer are backed by a satisfaction guarantee. If the customer is not happy with their results then they can contact the manufacturer and they will receive a replacement product or a full refund. The product must be returned with its original packaging. There is no time frame given for the validity of this guarantee so customers are warned that their return may be rejected due to unseen fine print.
Conclusion of Our PlumeScience Lash and Brow Enhancing Serum Review
PlumeScience Lash and Brow Enhancing Serum contains a good set of ingredients and the instructions for the use of this product are very easy to understand. However, the price of this product is quite high compared to some of its competitors. The guarantee is also very vague which may leave customers quite frustrated if they attempt to use it and lose out because they were not informed of all the terms. Customers might find better peace of mind with products that have a clearer guarantee and that are offered at a better price.
Top investigative research brought to you by the experts at Customer Review.