Le Fair Advanced Eyelash & Brow Enhancing Serum Review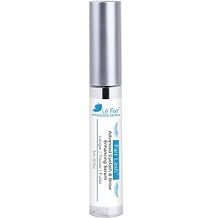 Today we review Advanced Eyelash & Brow Enhancing Serum. It is formulated to purportedly give you longer and thicker eyelashes and brows. The manufacturer says it has used top quality products that won't irritate your skin. Numerous cosmetic serums are on the market providing the same promise, so it can be hard differentiating the products that produce great results from those offering mediocre or almost no results. Fortunately, it is possible to tell which ones are more likely to work by examining the ingredients. Clinical research and published data indicate the ingredients with the greatest effectiveness, so let us proceed to examine the ingredients.
Ingredients
Some critical ingredients are:
Wheat Amino Acids
Arginine HCL
Vitamin E
Ubiquinone
Vitamin E is clinically proven as a major antioxidant, meaning it can slow down the signs of aging. It fights environmental and other pollutants and also boosts collagen production. Collagen firms and plums the skin, and helps restore elasticity. However, the combination of vitamins shown to do this best is vitamins C and E, so we would have been happier to see vitamin C included in this line up of ingredients. Instead, ubiquinone or COQ10 has been used as a substitute. As an amino acid, arginine HCL as great potential to restore skin health and fight the signs of aging as well. This is why wheat amino acids are also included. Notably omissions for strengthening and conditioning the lashes long term, though, are missing. The obvious missing ingredients include vitamin B5, resveratrol, pea sprouts, and the hydrating, rejuvenating marula oil.
Instructions
Apply a thin line along your upper lash line once a day at nighttime. As for your eyebrows, apply nightly onto the roots of your clean eyebrows. La Fair says you should see results in a few weeks.
Price
On the product website, you'll pay $ 24.90 for the wand, which is indicated as being a hefty $99.99 at normal price. If you enter a certain promotional code, you'll get 5% off your order, but it appears that the code is not available to everyone and it isn't clear how you obtain it. There are no discounts for buying more than one wand, however, shipping in the US is free. Note that this is standard and not fast-track shipping. Be careful though when using the discount code as there is a snag – there are no returns on such products.
Guarantee
Le Fair says it offers a 100% satisfaction guarantee. Therefore, if you are not happy, you'll be refunded – but if you entered a promo discount code you do not qualify for refunds. Le Fair says its 100% satisfaction guarantee 'is the best you will find anywhere'. You need to contact the manufacturer regarding a return which it says it will handle with the 'utmost' speed and care. Without the specifics of the policy, this is an unsubstantiated claim. The following questions should be answered if such a claim is to carry weight, but they are not:
How long do you have to return products? If it is not 365 days their claim cannot be true. Some incredibly confident manufacturers are able to offer 60-day and upward time periods, all the way to 365 days.
Is the shipping for returning the product also handled? We've come across one manufacturer that provides a normal time period but differentiates their returns policy by prepaying your shipping.
Can unopened and partially used products be returned? We've come across similarly worded 'satisfaction' guarantees that in fact only apply to incorrect orders received or damaged goods.
This lack of transparency never serves a customer well in our opinion. It also wastes your time because you first have to engage the manufacturer to find out the policy details. If it is provided upfront, you know straight away if you qualify, and how to go about obtaining one.
Conclusion Of Our Advanced Eyelash & Brow Enhancing Serum Review
Le Fair places great focus on good customer service, which is to be applauded. It asserts that its products are always in stock so you never have to wait to in between purchases. It also includes important amino acids and Vitamin E, two vital ingredients. The company though does not explain how each of its ingredients work and more information would have been preferable. It is of some concern that while the manufacturer promises it uses safe ingredients that do not irritate skin, it does not expressly guarantee that animal testing has not been done. Additionally, nor does the company offer proof of GMP certification. Because there are no patented ingredients (and specifics regarding the workings of the ones included are not provided), the efficacy is in doubt. We have found the most hardworking, effective lash and eyebrow cosmetic lines to include at least five patented ingredients, all clinically proven to deliver defined results. The product is also lacking vital ingredient input such as the benefit-dense marula oil and resveratrol. You would be more assured of results if you used a product with these multi-property ingredients.
Top investigative research brought to you by the experts at Customer Review.