Ren Clean Skincare Keep Young And Beautiful Firm And Lift Eye Cream Review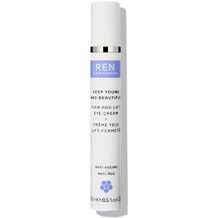 The following review is for a product called Ren Clean Skincare Keep Young And Beautiful Firm And Lift Eye Cream. It is an anti-aging eye cream, designed to revitalize the delicate eye area. According to the manufacturer, this eye cream works to dramatically reduce the appearance of wrinkles, crow's feet and deep expression lines around the eye, leaving the skin smoother, tighter and deeply hydrated.
Ingredients
The key ingredients are:
Hexapeptide 11
Hydroxyproline
These ingredients help firm the skin, strengthen collagen, and repair the skin's natural barriers. Just to mention what each of them does, Hexapeptide firms the skin and boosts elastin production. Carthame Oil is a natural source of ceramides, which help to repair the skin's natural barriers. Hydroxyproline strengthens collagen fibers to reduce fine lines and wrinkles
Unfortunately, the amount of each of the ingredients contained in the product is not indicated, which is concerning because this information is important for customers to know before they buy the product.
Instructions
It is recommended that you use one pump. Use your ring finger to gently tap around the eye area until the cream is absorbed into the skin.
Price
Ren Clean Skin Care can be purchased through the manufacturer's website for $41.67. You can also buy it from Amazon for $27.32 and through other online retailers. Prices differ per retailer. We did find any discounts during our research.
Guarantee
Luckily, the manufacturer offers a 30-day money-back guarantee. During this time, you can return the product, well packaged, for a full refund or exchange if you are unsatisfied with the results. Even though it is quite a short guarantee period, it is much better than nothing at all.
Conclusion of Our Ren Clean Skincare Keep Young And Beautiful Firm And Lift Eye Cream Review
Ren Clean Skincare Keep Young And Beautiful Firm And Lift Eye Cream might be an effective product to give skin around your eyes a young and beautiful firm look. We can say that the price is not very expensive because there are many products that cost more than it, even though there are also many that cost less.
The manufacturer offers you a money-back guarantee, which is good because you can at least shop with confidence knowing that you have 30 days to try the cream out. We would have liked to know how other customers experienced the product. However, there are very few consumer reviews available on this product, which are not enough to be certain about what to expect, as a prospective customer.
Moreover, few reviews could mean that not many individuals have bought and used the product and that it is not well known in the market. It is always better to buy a product that has been reviewed by many consumers so that you are well informed before you buy it. Therefore, due to these reasons, we would recommend that you rather search more, to see if you will not find something with better qualities.
Top investigative research brought to you by the experts at Customer Review.