100% Pure Coffee Bean Caffeine Eye Cream Review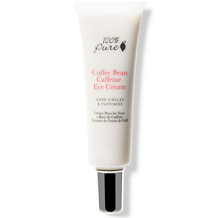 100% Pure Coffee Bean Caffeine Eye Cream is a product designed to reduce swelling and increase circulation to the eye in order to brighten dark circles. The manufacturer states that this concentrated formula provides effective results immediately. We have assessed the product's ingredients, directions, price, and manufacturer guarantee to determine if it can live up to the hype and if it is the ideal eye cream on the market.
Ingredients
Vitamin E (Tocopherol)
Coffee Cherry
Green Tea
Green Coffee
Vitamin E is an essential ingredient in eye cream products for its ability to prevent damage from external aggressors as well as promote the growth of healthy new skin cells. In doing so, it gives the skin a youthful and radiant look. Vanilla Planifolia is used to condition the skin and leave it feeling nourished. Coffee Cherry is known to fight wrinkles and reduce the appearance of fine lines. Green Tea works to improve skin tone and complexion. Green Coffee is responsible for boosting collagen production and improve blood circulation. In doing so, it reduces the prominence of wrinkles and brightens dark circles under the eyes. The product formula contains additional ingredients over and above the ones listed above, however, we cannot be sure of their role in the product as the manufacturer fails to indicate which are active. Whatsmore, the formula does not include any patented ingredients. Certain competitor products on the market contain a few clinically proven patented ingredients to showcase their quality and support product efficacy. These competitor products may, therefore, provide superior results. It is appealing to see that the company prides themselves on quality and ethical business practices.
Instructions
The manufacturer fails to provide any information about how to use this product for best results. This is somewhat concerning as we cannot determine the lifespan of the product, when it should be applied, or precautions that may need to be taken before use. Furthermore, they do not state the concentration of the active ingredients used. For this reason, we cannot confidently assess the strength of this formula compared to alternatives on the market.
Price
The manufacturer sells this product through their online store for $26. They regret to inform potential customers how much of the cream comes in each product. This makes it extremely difficult to determine if this is an affordable price to pay. Furthermore, purchases are not encouraged by discounts.
Guarantee
The manufacturer offers a Promise You Love 100% guarantee on purchases of this product. This guarantee applies to refunds within 30 days of purchase. This is positive to note as it covers customers and suggests that the manufacturer is confident about the product. That said, we have found several negative customer reviews for this product. Many have stated that it did not deliver optimal results and some complained about negative side effects. The efficacy is, therefore, in question.
Conclusion of Our 100% Pure Coffee Bean Caffeine Eye Cream Review
This product presents a few positive aspects. The formula contains several ingredients that are known to improve the skin under the eye. The inclusion of a guarantee bodes well for product efficacy. That said, the negative customer reviews bring the product quality into question. The lack of patented ingredients may render this formula inferior to competitors. The vague product information means that we cannot assess the true potency of this product. These are a few of the reasons we do not recommend this eye cream.
Top investigative research brought to you by the experts at Customer Review.