Sulwhasoo Concentrated Ginseng Renewing Eye Cream Review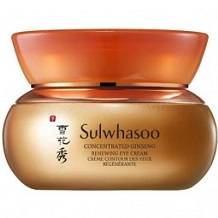 The following review is of Sulwhasoo Concentrated Ginseng Renewing Eye Cream. The company that manufactures it claims that it will minimize wrinkles, improve firmness, and gently moisturize the skin. They state that it provides intensive care for visible results. We determine whether it is the best option on the market by assessing various product factors. Consequently, we will help you make a wise product purchase.
Ingredients
The product contains a long list of ingredients. However, Sulwhasoo Concentrated Ginseng Renewing Eye Cream fails to indicate which ingredients are active in their formula. Therefore, we cannot accurately determine which ingredients are providing the benefits. However, they do state that Ginseng is a key component. Ginseng is rich in antioxidants and nutrients. Consequently, it fights oxidative stress and prevents damage from external aggressors. It also vitalizes the skin cells which may lead to smoother skin. Furthermore, it has brightening properties and may even discoloration. Although it is beneficial, you cannot rely on it completely. There are many more supportive ingredients, specifically patented ingredients, that would improve the product's quality.
Patented ingredients are clinically proven to yield optimal results. As an example, Argeline NP visibly reduces wrinkles and fine lines within fifteen days of use. It is very concerning to note that the manufacturer does not outrightly claim the product is animal cruelty-free or vegan-friendly. Nor, does it appear to be cGMP certified. This raises concerns over the ethicality of their manufacturing processes.
Instructions
The manufacturer provides clear instructions on how to use it. Dispense an appropriate amount onto the fingertips and lightly dot around the eyes. Use the ring finger to pat the cream onto the skin in small, circular strokes. Lift the skin around the eye upwards and smooth the cream over the orbital bone. With any remaining cream, finish between the eyes and on the forehead. This should be done in the morning and evening after applying Serum. This, however, will come at an additional cost.
Price
The product can be bought from the manufacturer's online store. A 20ml tub costs $180. This is a substantially expensive price to pay for a small quantity of product. Furthermore, the fact that it doesn't contain patented ingredients brings the high price into question. The manufacturer does not offer bulk-buy or package deals to ensure long-term use is sustainable. Therefore, you may find more effective and affordable options elsewhere.
Guarantee
The manufacturer claims to offer a 30-day money-back guarantee. However, this only applies to unused products. In effect, you are not eligible for a refund if the product does not work. This is an indication that the manufacturer is not confident in its quality and does not bode well for efficacy. Its extremely concerning to see such a lack of quality customer support for an expensive product. There are insufficient customer reviews to gain an accurate representation of quality. Therefore, it may be wise to find a more proven formula.
Conclusion of Our Sulwhasoo Concentrated Ginseng Renewing Eye Cream Review
At first glance, Sulwhasoo Concentrated Ginseng Renewing Eye Cream looks like an appealing product. It contains a beneficial, natural ingredient. Furthermore, a guarantee is in place. That said, the guarantee does not apply to opened products and the formula fails to include patented ingredients. Therefore, it does not live up to our outperform the market standards. The lack of customer reviews and extremely expensive price are further concerns. This is unlikely the best option on the market and we recommend searching for an alternative.
Top investigative research brought to you by the experts at Customer Review.