Misiluki Brilliant Eye Cream Review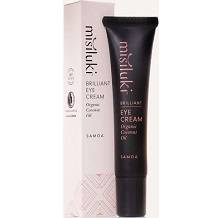 Misiluki Brilliant Eye Cream is an antiaging skin care product. The manufacturer claims that it will tighten the skin, soothe the eyes, and reduce dark circles. They argue that the formula is an enriching blend of ingredients for optimal results. That said, can it live up to these claims? In this review, we assess the product quality to equip you with the knowledge to make a wise purchase.
Ingredients
Benzyl Alcohol
Salicylic Acid
Vitamin E
Ubiquinone
These are only a few of the ingredients found in Misiluki Brilliant Eye Cream's formula. They do not stipulate which are active or inactive. This is concerning as we cannot be certain which are positively contributing to the benefits. Benzyl Alcohol is a preservative that makes the cream feel lighter. It may also help other ingredients penetrate deeper into the skin. However, the use of this ingredient is questionable. It may cause dryness, irritation, and breakouts. Therefore, completely contradicting the product's goals. Salicylic Acid is a peeling agent that sheds the outer layers of the skin. Consequently, it encourages the development of healthy new cells. Vitamin E prevents damage from free radicals and external aggressors. Ubiquinone, or Coenzyme Q10, may slow down signs of aging by energizing the skin cells. Hyaluronic Acid supports collagen synthesis. Therefore, it reduces the appearance of wrinkles.
These ingredients may prove beneficial, however, the formula is not the best on the market. There are several competitors that include up to five patented ingredients. Patented ingredients are clinically proven to provide optimal results. As an example, Argeline NP visibly reduces wrinkles within fifteen days of use. While it is appealing to see a Natural Certification, the lack of cGMP certification is concerning. These certifications are awarded to companies that adhere to ethical manufacturing processes. Therefore, the production is brought into question.
Instructions
The manufacturer does not provide clear instructions for use. They simply state that you should place a small amount on your ring finger and gently rub around the eye area in circular motions. The lack of; directions, frequency of application, and ingredient concentrations are extremely concerning. As a result, we cannot determine methods of best use or the product's potency.
Price
If you wish to purchase this product, you can do so from the manufacturer's online store. A 15ml tube retails for $55. This is relatively expensive for an eye cream product. Especially, for one that contains questionable ingredients and no patented ingredients. Furthermore, it is pricey in comparison to several superior competitor products on the market. The manufacturer does not offer any discounts or package deals. Therefore, this limits your purchasing options.
Guarantee
The manufacturer offers a 30-day money-back guarantee on unused products. Consequently, this is very disappointing as you cannot apply for a refund if the product does not work. This highlights the manufacturer's lack of confidence in it. Furthermore, it is concerning to note that there are very few customer reviews for it. Therefore, we cannot accurately assess its effectiveness. Consequently, there are many more proven alternatives to consider.
Conclusion of Our Misiluki Brilliant Eye Cream Review
Misiluki Brilliant Eye Cream presents some positive attributes. The formula contains a few essential ingredients and there is a guarantee. However, the formula also contains a questionable ingredient and lacks patented ingredients. The price is fairly high and the guarantee does not apply to used products. For these reasons, we recommend searching for a more affordable and effective alternative.
Top investigative research brought to you by the experts at Customer Review.