Gaya Cosmetics Eye Cream Review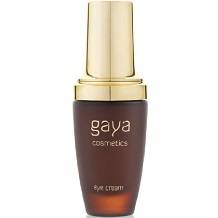 In this review the skincare product Eye Cream, manufactured by Gaya Cosmetics will be examined. This product is claimed to treat puffiness while reducing dark circles around the eyes. It combats dry skin and dehydration, and inhibits collagen loss, ensuring skin elasticity. Skin will feel fresh and look radiant. Continue reading this review to learn the facts about this eye cream product.
Ingredients
Water
Isononyl isononanoate
Cyclomethicone
Cyclopentasiloxane
Dimethicone crosspolymer
C14-22 alcohol
C12-20 alkyl glucoside
Cetyl ricinoleate
Hexylen glycol
Algae extract
Pullulan
Sodium hyaluronate
Betaine
Glycerine
Steareth-20
Chrysin
N-hydroxysuccinimide
Palmitoyl oligopeptide
Palmitoyl tetrapeptide-7
Caprylic/capric triglyceride – teprenone
Silt extract
Hesperidin methyl chalcone
Steareth-20
Dipeptide-2
Sodium PCA
Squalene
Ethyl ferulate
Caprylyl glycol
Glycerine
Glyceryl caprylate
Phenylpropanol
Maris salt
Vitamins C
Vitamin E
Fragrance
Dipotassium glycyrrhizinate
Mica
These ingredients help to nourish and hydrate the skin while boosting production of collagen which supports skin plumpness and elasticity. Premature aging is prevented and fine lines and wrinkles minimized. There are no patented ingredients contained in the product, which also lacks clinically proven ingredients. Natural ingredients are used and the eye cream product is vegan-friendly.
Instructions
User instructions are clear and easy to follow. This eye care product should be applied twice daily, mornings and evenings around the eyes with a tapping motion. The manufacturer does warn users to avoid applying the product near the tear ducts, but it may be used on the lips to soften and plump them.
Price
A 30-ml bottle of this product is available online directly from the manufacturer at $3,23. The company offers no discounts nor any package deals as incentives to the consumer.
Guarantee
The manufacturer offers a full guarantee on this product as long as it has not been opened or removed from the original packaging. The company does not tell consumers how many days they have in which to return the product for a refund.
Conclusion of Our Gaya Cosmetics Eye Cream Review
Eye Cream by Gaya Cosmetics appears useful. There is a full money-back guarantee on this product although the consumer is not allowed to test before returning it. Ingredients are vegan-friendly. However, some concerns have been uncovered by our research. Besides the non-user-friendly guarantee, the company does not offer any incentives such as discounts or package deals that would save the consumer money or reward them for their loyalty. Also, this product lacks at least five patented and clinically proven ingredients, which is the standard set by scientific studies to determine product efficacy. More so, there should be mentioned that there are more than a few other competitive goods in the marketplace that offer better-quality products. This as they have safe and firm guarantees, very outstanding package deals with markdowns that can assist regulars save money over the long term, nonetheless then again as well clear in addition succinct information on their website as well as easy to use guidelines how to use these products in that way allowing the client to reach best outcomes. This specific product though does not bid the equal.
Top investigative research brought to you by the experts at Customer Review.