Beautycounter Rejuvenating Eye Cream Review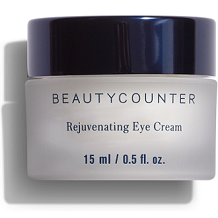 The manufacturer of Rejuvenating Eye Cream, Beautycounter, claims that it will allow users to rediscover youthful-looking eyes. This claim is supposedly supported by the fact that this formula will smooth, soothe, and enliven the area under the eyes. This review will assess the product's ability to deliver on these bold claims and determine if it is worthy of your investment. Continue reading for all of the facts; from ingredients to manufacturer guarantee.
Ingredients
Tocopherol (Vitamin E)
Ascophyllum Nodosum (Algae) Extract
Caffeine
Prunus Armeniaca (Apricot) Kernel Oil
Rubus Idaeus (Raspberry) Seed Oil (Oleic Acid)
Asparagopsis Armata (Red Algae) Extract
It is pleasing to note some beneficial ingredients in this formula. Vitamin E works to protect the skin and reduce the damage caused by external aggressors. This ingredient also encourages the healthy growth of new skin cells. Algae Extract has many nutrients and can work to remove toxins from the skin. In doing so, it protects the skin from damage. Caffeine is known to restrict blood vessels to reduce redness. The inclusion of several other beneficial ingredients such as Apricot Kernel Oil and Raspberry Seed Oil is positive to note as these play a role in smoothening and softening the skin. This formula contains a long list of ingredients other than the ones mentioned above, however, there is no indication as to which are active ingredients. For this reason, we cannot know for sure which ingredients are playing an influential role in the product's claimed results. Furthermore, a concern is that this product contains no patented ingredients. Competitor products on the market contain up to five clinically proven patented ingredients as they are a quality indicator. We were pleased to note that this product is made using ethical practices and with sustainability in mind. This, however, should be a given in the 21st century.
Instructions
The manufacturer provides vague direction recommendations. They suggest using the product in the morning and evening. Lightly pat around the eye area until fully absorbed. Beyond this information, they do not indicate the strength of ingredients used in the formula. This is worrisome as we cannot determine the product potency.
Price
The manufacturer sells this product through their online store. A tub of 15ml will cost you $72. This product is priced exceptionally high when compared to alternatives on the market, especially considering that it contains no patented ingredients. Another major concern is that there are no package deals to ensure that prolonged use is sustainable.
Guarantee
The manufacturer claims to offer a 60-day money-back guarantee on product purchases that customers are not happy with. Customers will be responsible for shipping costs, therefore, you may not receive your total money spent back. There are too few customer reviews to confidently vouch for the efficacy of this product, however, some have noted that it failed to work and was overpriced.
Conclusion of Our Beautycounter Rejuvenating Eye Cream Review
This product may seem like an ideal option on the market. The formula has a number of ingredients that have proven beneficial for the skin and the money-back guarantee suggests a level of confidence in the product. These facts considered, the price is extremely high. There are no patented ingredients to highlight its quality. And, the lack of sufficient customer reviews means we cannot vouch for its effectiveness. For these reasons and more, we recommend searching for an alternative eye cream.
Top investigative research brought to you by the experts at Customer Review.