SkinCeuticals Eye Cream for Wrinkles Review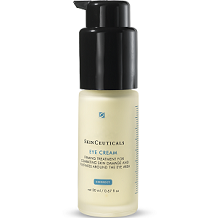 SkinCeuticals Eye Cream is a product made specifically for firming up the skin around the eyes and reducing the appearance of dark circles and signs of aging. It helps to protect the skin against environmental damage and provides it with a source of natural hydration. It also helps to reduce puffiness and sagging and can be used on any skin type. This review takes a look at how effective the product is and whether it should be the first choice for customers who are looking for an eye cream.
Ingredients
Ectoin
Eye peptides
Tocopheryl acetate
Hyaluronate
Ectoin is an extract from bacteria that helps them to survive in very harsh conditions. It prevents the excessive movement of water out of skin cells so that they do not dehydrate in more difficult environmental conditions such as when it is very warm. Centella asiatica is a plant extract that is known to improve the elasticity of the skin, probably by having some effect on the various proteins that help the skin cells stick together. The eye specific peptides are small bits of proteins that able to reduce puffiness and dark circles by acting directly on the skin cells.
The tocopheryl acetate is an antioxidant and hyaluronate is a natural molecule that helps to firm skin.
Instructions
SkinCeuticals Eye Cream for Wrinkles can either be used once or twice a day. It can be applied by taking a small amount on the fingertips and gently massaging it into the relevant area. The manufacturer recommends avoiding applying this product directly under the eyelids. The manufacturer does not say if there is a particular time of the day that is better to use this product.
Price
0.67 fl oz bottle goes for the price of $72 when purchased online from the manufacturer. The price does not include shipping or taxes. There does not seem to be any sort of discount available for buying the product in bulk or for subscribing for a regular order but we have noted that the manufacturer does offer some discounts using promotional codes.
Considering that there are no discounts available for the product we find the price to be quite high. Customers will end up paying much more for this product than they will if they find a manufacturer who offers discounts for buying bulk orders.
Guarantee
The manufacturer has a returns policy which states that if the customer is not satisfied for some reason then the product can be returned in its original packaging to receive a refund which includes the price of shipping. The manufacturer does not offer exchanges. This returns policy is a little bit vague as to whether it is still valid if the product has been opened or not. Customers are therefore still at risk under this guarantee.
Conclusion of Our SkinCeuticals Eye Cream for Wrinkles Review
This product contains ingredients which are quite interesting but also appear to be quite effective. It is also somewhat beneficial that they offer some sort of returns policy. This product is certainly not a bad one, but it falls short in certain features. For example, the instructions lack a bit of information and so does the guarantee. The price of this product is also very high.
Top investigative research brought to you by the experts at Customer Review.