Derma E Advanced Peptides and Collagen Eye Cream Review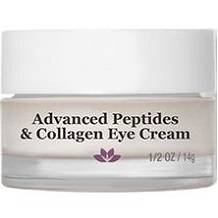 This is a review of Derma E Advanced Peptides and Collagen Eye Cream. The company that produces it states that it evens wrinkles and crows feet for more youthful looking skin. They argue that the double action formula provides effective results. However, we will outline whether it can yield optimal results by analyzing all its attributes. Hence, we will ensure that you make an informed consumer purchase.
Ingredients
Matrixyl synthe'6
Argireline NP
Matrixyl synthe'6 is a peptide ingredient that stimulates cell activity, repairs wounds, and promotes collagen production. As a result, it can reduce the appearance of wrinkles and combat blemishes. Argireline NP is a peptide solution that causes the facial muscles to contract smoother. As a result, it visibly reduces the appearance of fine lines. Pycnogenol improves skin hydration and elasticity. Also, it reduces the development of free radicals. Therefore, it nourishes and smoothens the skin.
The formula contains many additional ingredients, however, the manufacturer does not mention which are active. Therefore, we cannot accurately assess which play a contributing role in the product's benefits. This is very concerning. It is pleasing to note that Derma E Advanced Peptides and Collagen Eye Cream includes these three patented ingredients. Patented ingredients are clinically proven to provide positive results. However, several competitor products contain up to five patented ingredients. As a result, they will likely provide superior results. If you are searching for the best product on the market then you should consider a formula with five patented ingredients.
Instructions
The manufacturer provides exceptionally vague directions for best use. They merely suggest gently dabbing around the eye with your ring finger in the morning and evening. They state that it works well under makeup. While the formula contains patented ingredients, the manufacturer does not provide the ingredient concentrations. Hence, we cannot determine the actual potency of the formula.
Price
The manufacturer sells the product on their online store. A one-time purchase costs $29.95. They offer a 10% if you subscribe to an auto-delivery programme. The saving is not substantial and these programmes are often difficult to cancel. Therefore, they are not a wise investment. It is relatively affordable, considering it contains patented ingredients. However, the lack of additional patented ingredients and bulk-buy discounts makes it a pricier option than many alternatives.
Guarantee
The manufacturer claims to offer a 100% Money-Back Guarantee within 30 days of purchase. However, they fail to clearly articulate the product return condition guidelines. Therefore, they may be able to withhold a guarantee if the product has been partially used. In saying so, this may not be the most reliable guarantee. This suggests that the manufacturer is not completely confident in the product's effectiveness. An even more concerning factor is that there are several negative customer reviews. Many complain that the product had no effect and/or that it has an extremely offputting smell.
Conclusion of Our Derma E Advanced Peptides and Collagen Eye Cream Review
There are some positive factors about Derma E Advanced Peptides and Collagen Eye Cream. The inclusion of several patented ingredients and relatively affordable price are appealing selling points. However, the formula still lacks two patented ingredients which can be found in certain alternatives. The vague guarantee and negative customer reviews are further concerns. Therefore, we do not recommend it.
Top investigative research brought to you by the experts at Customer Review.