e.l.f. Illuminating Eye Cream Review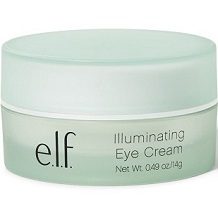 E.l.f. Illuminating Eye Cream is a skin care product that is designed to improve hydration of the skin underneath the eye and in so doing reduce dark circles that appear from stress and sleepless nights. It also helps to reduce the appearance of wrinkles. It contains a number of natural ingredients that can nourish the skin so that it remains healthy. This review determines if it is the best product to use as an eye cream,  considering there are so many out there.
Ingredients
Cucumber extract
Jojoba oil
Tocopheryl acetate
Hyaluronate
Cucumber extract contains a very high moisture content that is able to penetrate skin cells and hydrate them. Shea butter provides protective barrier that locks in the moisture and prevents it from leaving the skin cells. The jojoba oil has a similar effect.
Tocopheryl acetate contains a strong antioxidant also known as vitamin E. What antioxidants do is that they stop toxic chemicals from damaging the skin through a process called oxidation. This helps to reduce the accelerated aging in the skin and thus reduce wrinkles. The hyaluronate is a natural molecule in skin tissue that provides a scaffold for new skin cells to grow which plumps up the skin.
Instructions
The manufacturer suggests cleansing the face before using the product. The product must be applied to the eyelid area day and night. The manufacturer suggests using a moisturizer along with the product. This is actually a concern for us because it means that the manufacturer does not include enough moisturizing ingredients in the product. Why would a customer by two products when they can do the same thing with one?
Price
0.49 oz of the product can be purchased online for $10. The price does not include shipping or taxes but free shipping is offered on all purchases that are over $25. We could not find any offers for a repeat order service. We always appreciate a manufacturer that offers some form of discount but we have noted that there other manufacturers of similar products that offer discounts for buying in bulk. Customers can purchase multiple months supplies at a highly discounted rate with some other manufacturers.
Guarantee
There is no sign of a guarantee or returns policy for this product. To us this suggests that the manufacturer is not entirely confident in it. Essentially they are unwilling to bear the risk that the product doesn't work as they will lose money which leads us to believe that there is a considerable possibility that this product may be ineffective. It also means that there is considerable risk to the customer who purchases this product as they may not get the results they were hoping for and will lose money in the process. We believe a guarantee is a fair expectation from the manufacturer because many other leading brands offer such guarantees.
Conclusion of Our e.l.f. Illuminating Eye Cream Review
The ingredients in this product are quite valuable in there functions and this product is offered at a reasonable price. It is just a concern to us that the manufacturer believes their product requires a supplemental product to do what should be done in one. This fact and the fact that this product is not guaranteed leads us to believe that this is probably not one of the most effective products on the market and that customers should look elsewhere.
Top investigative research brought to you by the experts at Customer Review.