Elizabeth Arden Visible Difference Moisturizing Eye Cream Review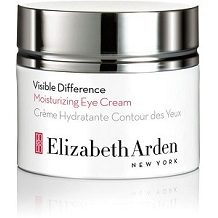 We've examined Elizabeth Arden Visible Difference Moisturizing Eye Cream as a product which has been designed to rehydrate the skin around the eyes by preventing the loss of moisture. Rehydration of the skin helps to get rid of dark circles underneath eyes. It also helps the skin to look smooth and fresh. This product can be used on all skin types. This review determines if this product is the best to buy in order to sort out all of the above mentioned issues.
Ingredients
Retinyl linoleate
Filagrinol complex
Peptides
Retinyl linoleate contains the derivative of vitamin A and a fatty acid. These help to nourish the skin cells in a natural way and to some degree help to reduce inflammation from environmental stress. The filagrinol complex contains a variety of plant extracts that contribute to the moisturization  of the skin and the retaining of the moisture. Lastly, the peptides act as direct signaling molecules on the skin cells and help to increase collagen production that boosts firmness of the skin.
Instructions
The only instructions the manufacturer provides is that the product must be patted gently around the eye area. They give no information as to whether this product can be used with makeup on top or how many times a day it must be used or if there's a best time of the day to use it. The problem with instructions as vague as this is that customers will have incredibly varying results and some customers will not receive the full benefit of the product simply because the manufacturer did not tell them how to use it properly.
Price
Customers can purchase the product for 35 online which gives them a container that has 0.5 oz of the product inside. The price does not include shipping or taxes. The manufacturer has a subscription service but it does not offer any particular discounts. The manufacturer does however have a loyalty program for customers to receive promotional discounts.
Guarantee
The manufacturer only accepts returns of products which is not yet been used. They can be returned within 30 days from the day of purchase and must be returned in their original packaging and in good condition to receive the refund. This is not a particularly good returns policy because customers might find that they are unhappy only after they've opened the product and then they are stuck with a product that does not work for them and they have lost money.
Conclusion of Our Elizabeth Arden Visible Difference Moisturizing Eye Cream Review
The price of this product is not incredibly unreasonable and it does contain some scientifically proven ingredients. But there are also a number of drawbacks to this product. One major problem is that the instructions are very vague and customers may have reduced results because of this. A second major problem is that the returns policy does not cover products that have already been opened. This manufacturer also doesn't offer a significant source of discounts.
Top investigative research brought to you by the experts at Customer Review.