Skinfood Royal Honey Essential Eye Cream Review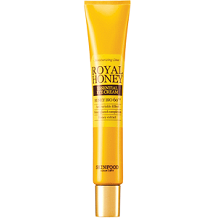 Is it that time again to update your outdated eye cream for a fresh, exciting one? Discover everything you should know about Royal Honey Essential Eye Cream in our review. This product is a luxurious eye cream that features rich, aged honey that firms the eye area. This eye cream is said to contain double honey content as well as original aged honey, providing a strong moisturizing effect. The manufacturer's Royal Honey products double moisturize. This is what makes the manufacturer's products stand out from other products. Carry on reading on below!
Ingredients
Some of the ingredients in this product include:
Water
Honey Extract
Propolis Extract
Honey
The skin is hydrated by water. Water might boost ingredient penetration as well as absorption. Honey extract offers moisturizing, invigorating and anti-bacterial effects for skin care and hair formulations. Propolis has brilliant moisture-retaining power as well as an anti-inflammatory effect. You can use glycerin on skin types. You can apply glycerin straight onto the skin as a moisturizer. Honey has anti-aging, moisturizing as well as antiseptic properties. The manufacturer doesn't test its ingredients or products on animals. This product has many ingredients. It seems to be unclear which ingredients are the main ones.
Instructions
Using this product is quite simple. Once you have used toner, you should apply the eye cream around the eye area in gentle patting movements. It is not known how many times a day this product should be used.
Price
A 30 ml tube of eye cream costs $30.00 on the manufacturer's website. You have the option to purchase the bottle online on the manufacturer's website. There are no trial options available. By referring a friend to the manufacturer's website, you get $10. Free shipping is offered on orders over $50 or more (this is after discounts, before tax). Standard shipping is offered. The manufacturer does not offer international or expedited shipping.
Guarantee
The manufacturer's return policy offers:
A full refund on an unused and unopened product within 60 days of the date of purchase. The product has to be in its original packaging
Online credit on any unopened product within 30 days of the date of purchase
Products that are defective or damaged will be replaced or refunded
We would like to make note that the manufacturer states that customers are responsible for return shipping charges. Online purchases can't be returned and/or exchanged at offline stores.
Conclusion of Our Royal Honey Essential Eye Cream Review
We would like to point out that there are some positive aspects to this product. This eye cream has many positive customer reviews on the manufacturer's website. This product has been tried and tested by people and their positive reviews indicate that this product has worked for them, so, therefore, it is likely that it could work for others, too. It is also very easy to use this product. The easy usage instructions ensure that using this product is simple for everyone.
This product does have some downsides. We don't really know which are the main ingredients that are used in this product. The manufacturer has not offered a price discount on this product or a free trial. These benefits may be beneficial in enticing customers to purchase this eye cream.
Top investigative research brought to you by the experts at Customer Review.