It Cosmetics Confidence in an Eye Cream Review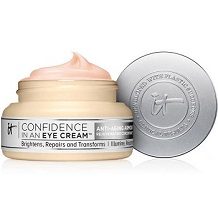 Read our review below about a product called It Cosmetics Confidence in an Eye Cream. It is said to be formulated to help brighten, repair and transform the skin around the eye area. The manufacturer claims that it is suitable for even the most sensitive skin. It makes your eyes appear instantly more awake.
Ingredients
The list of ingredients is extremely long (with over 200 ingredients), and there is no indication which are active ingredients, and which are not. Therefore, we have selected some that we think might be active, such as:
Colloidal Oatmeal
Macadamia Ternifolia Seed Oil
Curcuma Longa Root Extract
Cucumis Sativus Fruit Extract
Camellia Sinensis Leaf Extract
Coffea Arabica Seed Extract
The ingredients work to hydrate, smooth and refresh the skin. They help restore the look of firmness to reduce the appearance of puffiness, dark circles, lines, and wrinkles. it's concerning to see that this formula does not contain any patented ingredients at all which could prove that the product has been clinically proven to deliver results.
Instructions
Apply in the morning and at night, gently smoothing all around your eye area to refresh and hydrate tired eyes. You'll see powerful results immediately and more dramatic results over time.
For best results, use your ring finger to gently tap on eye cream along your entire eye area, including under your eyes, along your orbital bone and under your brows.
Price
The manufacturer sells this Eye Cream on their website for $38.00. It is $3.00 cheaper from Amazon and varies between $38.00 and $48.00 from one other online retailer. Unfortunately, there are no discounts available. The price that you see on the website, is what you will pay when you buy it.
Guarantee
There is no information provided about the money-back guarantee. It would have been made available if it existed. This means that you will not be refunded if you use this cream and do not see any results.
Also, the lack of guarantee gives an impression that the manufacturer is not really confident in the effectiveness of the product. Therefore, they are protecting themselves by not backing the product with a guarantee.
Conclusion of Our It Cosmetics Confidence in an Eye Cream Review
It Cosmetics Confidence in an Eye Cream might be able to make your eyes look more awake, younger, and healthy, through its natural ingredients. The price on the producer's website and Amazon is reasonable, and not too bad compared to similar products.
The consumer reviews on the manufacturer's website are mostly positive. However, we are concerned that there are only three reviews on Amazon, because the reviews outside the manufacturer's website are often more legitimate than the ones on the producer's website, since they do not have access to edit or delete information.
Another concern is that there is no money-back guarantee on this product. We also do not like the long list of ingredients, that is not clear which ones are active, which ones are not. We are very hesitant to recommend this cream to you. It is better to go for a product that has a money-back guarantee, and one with clear information on ingredients, for your protection.
Top investigative research brought to you by the experts at Customer Review.