Mary Kay TimeWise Firming Eye Cream Review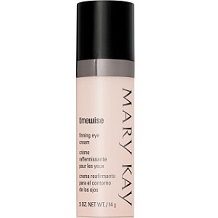 This Mary Kay TimeWise Firming Eye Cream review assesses the effectiveness of the product in order to determine if it is the best option for customers who are looking for an eye cream that can firm up the skin and moisturize it while also brightening it and reducing the appearance of wrinkles. This product is suitable for all skin types and is hypoallergenic. It can be used by people with contact lenses.
Ingredients
Palmitoyl Tetrapeptide-3
Palmitoyl Oligopeptide
Palmitoyl tetrapeptide 3 is one of the building blocks needed to make collagen. The same is true for palmitoyl oligopeptide. Collagen is the protein that is responsible for giving skin its firmness because its natural job is to form a net between the skin cells and trap in water and large molecules. If the body's collagen production can be boosted then the skin can fill out and this can help to get rid of wrinkles.
The aloe leaf extract is a very valuable ingredient because it provides moisture to the skin cells and is also a source of antioxidants and vitamins. This means that it helps to nourish the skin cells so that they are at their best health which means they will look their best and it helps to reduce inflammation in the skin from damage by environmental chemicals.
Instructions
The only information that the customer receives from the manufacturer for the application of This product is that it must be patted into the eye area. The manufacturer does not say at what time of the day it is best to apply this product or how many times a day it should be used.
Price
Mary Kay TimeWise Firming Eye Cream can be purchased directly from the manufacturer's online store for $32. This provides the customer with 5 oz of the product. This price does not appear to include shipping or taxes and there does not seem to be any discounts available from the manufacturer either for buying in bulk or for subscribing to receive the product on a regular basis.
Guarantee
If the customer finds that they are not satisfied with the product for any reason then it can be exchanged or a full refund can be issued. The manufacturer does not say how long this guarantee is valid for or if the product has to be returned in a particular state to qualify. Customers should be careful because they can be caught out and actually may end up not receiving a refund because of hidden terms in the guarantee.
Conclusion of Our Mary Kay TimeWise Firming Eye Cream Review
The good things about this product are that it contains some reasonably researched ingredients and that it is offered at a very fair price. The problems with this product are that the manufacturer does not provide much information on how to use the product properly which could reduce customers results and that the guarantee is vague and might not be useful to the customer after all. There are manufacturers of similar products that provide clearer guarantees and instructions, so customers might be better off seeking these.
Top investigative research brought to you by the experts at Customer Review.