Hollywood Skin Re-Invented Youth Secret Eye Cream Review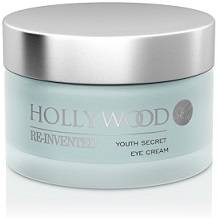 The product Re-Invented Youth Secret Eye Cream, by Hollywood Skin claims to remove dark circles and puffiness around the eyes, thereby making the user look younger. The product has been formulated for the area below the eye. It is a light-weight formula that will be readily absorbed by the skin, leaving no greasiness or stickiness. This product claims to remove dark bags under the eyes, brightening and tightening the skin, and offering anti-aging effects. In this review, these aspects will be investigated by examining the product's ingredients, the instructions, the guarantee, and the price. Keep on reading this review to discover these aspects.
Ingredients
Vitamin C (20%)
Hyaluronic acid
Matrixyl 3000
Peptide complex
Plant stem cells
Vitamin E 1%
Jojoba oil
Organic aloe barbadensis leaf juice
Organic anthemis nobilis flower extract
Caprylic/capric
Matrixyl 3000
Cetearyl glucoside
Glycerine
Resveratrol
Hyaluronic acid
Dipalmitoyl hydroxyproline
MSM
Shea butter
Xanthan gum
Sunflower seed oil
Jojoba seed oil
Tocopherol
Plant stem cells
Peptide complex
Caprylic acid
Vitamin C
Vitamin E
Water
Vitamin C helps drain away bad blood that could lead to dark bags under the eyes. Hyaluronic acid soothes and hydrates the area below the eyes. Matrixyl 3000, a peptide, enhances the production of collagen, assisting with skin repair. Plant stem cells help to tighten the skin, improving skin elasticity and enhancing texture. Vitamin E helps delay aging, protecting the skin from environmental damage. Jojoba oil is a skin conditioner and nourisher. MSM heals and helps to stimulate the growth of skin on a cellular level. This product does contain 20% vitamin C; however, an effective product should contain at least five active ingredients making up at least 10% of the formula.
Instructions
User instructions are clear and simple. The skin should first be washed and patted dry. If a toner is used, this should be applied before the cream. Small amounts of the eye cream should be applied to the entire face, with special attention to the areas where there are any wrinkles or crow's feet. This product should be used twice daily, mornings and evenings.
Price
This product is available online. The company offers various package deals with discounts. One bottle costs $27,50; three bottles cost $24,75 each, saving 10%. Five bottles cost $23,37 each, saving 15%.
Guarantee
This manufacturer of this skincare product offers a 14-day cooling-off period on this product. Within this period the product may be exchanged. There is also a 30-day money-back guarantee. The consumer should notify the company if planning to return the product. The customer pays the return shipping fees.
Conclusion of Our Hollywood Skin Re-Invented Youth Secret Eye Cream Review
The product Re-Invented Youth Secret Eye Cream contains a high concentration of vitamin C. This product comes with a 30-day money-back guarantee and clear instructions. On the downside, there are insufficient patented and clinically proven ingredients to make it effective. The return shipping is for the consumer's account. With all of that mentioned it should also be said that there are many other similar products on the market at the moment. These are products that offer a firm guarantee that protects the consumer, very attractive package deals with good discounts where the consumer can save money and very good ingredients that are patented and clinically proven and tested to be effective. More so, these competitive products are presented on websites that are informative and clear. This product does not offer these aspects.
Top investigative research brought to you by the experts at Customer Review.