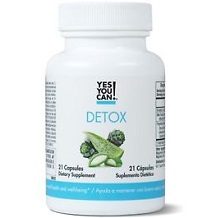 This is our review of Yes you Can Detox. Its goals are to promote overall health and well-being. It should help in the cleansing of your body and support liver and kidney function. It also provides antioxidant protection. It is a good way to jump-start your body into a new healthy lifestyle. Continue reading for our full review.
Ingredients
N-Acetyl-L-Cysteine – 600 mg
Milk Thistle Extract – 525 mg
Proprietary Blend – Broccoli Extract, Decolorized Aloe Vera, Artichoke Extract – 200 mg
Other ingredients include: Gelatin, Microcrystaline Cellulose, and Magnesium Stearate.
The ingredients in this product are intended to help promote natural cleansing of your body. They help eliminate toxins and prepare your body for a transformation. Aloe Vera extract and artichoke extract have both been proven to help with digestion and cleansing of the body. Both also contain antioxidants to reduce inflammation.
Dosage
It is recommended to take 3 capsules daily for 7 days. For best results, you should take 1 in the morning and 2 at night for 7 days, or as recommended by your doctor. You should not exceed the recommended dose.
Possible Side Effects
You should not use this product if you are pregnant, nursing, or under the age of 18. Please speak with your doctor if you are taking any medication or have a medical condition before you use this product. Stop taking this product if you have any negative reactions. Some possible side effects that we have found in our research may include diarrhea, constipation, nausea, vomiting, bloating, gas, and an upset stomach. Rare side effects may include rashes, fever, headaches, drowsiness, and low blood pressure.
Price
Yes You Can Detox is sold for $29.99. This will last you a week. It's not cheap but it's also not that expensive.
Guarantee
The manufacturer gives a 45-day 100% money-back guarantee not including shipping and handling. The guarantee doesn't apply to products that were damaged by abuse or misuse, or purchased from an unauthorized seller. The product also has to be unused and unopened. We found a limited amount of customer reviews for this product but they were all positive.
Our Final Review of Yes You Can Detox
There are a couple of positive things about Yes You Can Detox. Compared to other detox products, you don't need to take that many capsules per day and it has clear dose instructions. This product also has a short and clear list of ingredients, which may be comforting to the customer. All of the customer reviews we found for this product were positive, but then again there were only 6 of them. There are a couple of things we didn't like as well. We don't appreciate that the guarantee doesn't give you a chance to try the product and then return it. We understand that it is only for 7 days, but if after 7 days it had no effect on you, you should be able to get a refund. We also think it's a bit fishy that we can't find any negative customer reviews about this product. Either only a few people tried it and loved it or other honest reviews were deleted. We feel that there are better options out there and would not recommend this product.
Top investigative research brought to you by the experts at Customer Review.