PhytAge Labs Internal 911 Review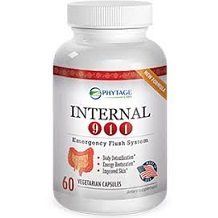 The following is a review of a product made by PhytAge Labs called Internal 911. This specific product claims to be a complete cleansing and detox system made to help clean you from the inside out, assisting in the elimination of harmful toxins from your body.
This product claims to be an internal cleansing supplement made to clean and purify your gastrointestinal tract. This product is specially designed to have a gentle, 100% safe laxative effect on your colon, resulting in a younger feeling, healthier and lighter you.
Ingredients
Proprietary Blend – 1500mg
Psyllium Husk Powder

Bentonite Clay

Black Walnut Hull

Oat Bran Powder

Prune Powder

Aloe Vera Powder

Apple Pectin Powder

Glucomannan Powder
Psyllium keeps stools moving through your digestive tract and draws water into stools. Psyllium also stimulates your colon to keep stools moving at optimum speed!
Bentonite Clay, also called Montmorillonite clay, helps "detoxify" your body and defend against illness. Its positive benefits have been put to use for centuries around the world in order to promote better health and ward off disease.
Black Walnut Hull has also been used in herbal medicine for thousands of years. It has been used throughout history for treatment of intestinal problems, snake bites, ulcers, scurvy and as one of the most effective laxatives available. It's a good source of beta-carotene, acids, calcium, iron, magnesium, manganese, phosphorus, potassium, selenium, silicon, zinc, tannin, B-vitamins, and Vitamin C. Black Walnut Hull is also considered a tonic that aids digestion and the intestinal system. Perhaps its most well-known property is its ability to fight intestinal parasites.
The fiber in Oat Bran can keep you from becoming constipated by increasing the bulk of your stools and helping to keep them soft. You can become constipated if your diet is lacking in fiber. By making sure you incorporate fiber into your daily diet, accompanied by an adequate amount of fluids, you will help to prevent constipation by keeping your stools soft and easy to move.
Flaxseed is an outstanding source of soluble fiber – this is the type of fiber that helps your digestive processes along. Flaxseed is an excellent source of Omega-3 fatty acids and they contribute to digestive regularity by lubricating your system. Omega-3s are an added benefit. Omega-3s are anti-inflammatory. Inflammation is probably the cause of most of our problems and chronic conditions.
Dosage
Two capsules should be taken twice a day, every day for optimal results. There are 60 tablets per bottle. This bottle will last you 15 days. This information on their website is a bit confusing as it states on the label that two capsules should be taken daily with a meal.
Possible Side Effects
The manufacturers of this product suggest that it is safe to use this product as a multi-vitamin. However, it states that if you have a medical condition or are taking medication you need to discuss this with your doctor. Research shows that products such as these should not be taken whilst pregnant or breastfeeding.
Price
The regular price for a bottle of 60 capsules is ridiculously high at $120. However, it is marketed at $69.95. We find that this is still an exceptionally high price for one bottle of capsules which will only last 15 days. It also states that you will get this price if you join PhytAge Laboratories private test group. That piece of information is a bit concerning. It also offers 2 bottles for $59.95 per bottle. Their best deal offer is to order 4 bottles for $49.95 saving you $80. Shipping within the United States is free.
Guarantee
This product offers a 90-day-money-back-guarantee which you can return even if used.
Conclusion – PhytAge Labs Internal 911 Review
This product has amazing ingredients that look great! It also looks like a lot of research has gone into the making of this product. On the downside, after reading the information provided on their website, it is unclear on the dosage one must take – as it differs from the label, as well as if it should be taken on an empty stomach or not. The information is very ambiguous and if it's true that the product only lasts 15 days then it is rather pricey!
Top investigative research brought to you by the experts at Customer Review.