Cleanse Purify Colon Program Review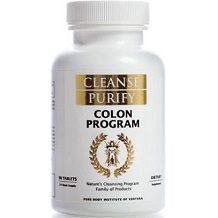 Over time, toxins can build up in the colon, causing movement of its contents to become sluggish and general bowel dysfunction to occur. When the colon is not working exactly as it should, it might be time to try a colon cleanse supplement. Cleanse Purify Colon Program is an all natural product designed to cleanse the colon of its toxins and improve bowel function. This review determines its effectiveness.
Ingredients
Psyllium seed
Fennel seed
Cascara Sagrada bark
Buckthorn bark
Liquorice root
Rhubarb root
Ginger root
Many of the ingredients that have been placed in this product contain high amounts of fiber. Fiber gets a sticky and bulky texture in the intestine which helps to pick up all of the unwanted toxins so that they are excreted with it.
There are some other properties of each ingredient that are helpful, like the gentle natural laxative effect of licorice and the antispasmodic effect of fennel seed.
We find it interesting that this manufacturer didn't include any probiotic bacteria in their supplement, because once the colon has been detoxified, there will be nothing there to prevent it from becoming toxic again. Products which contain probiotic bacteria leave behind these bacteria to protect the colon from being as unhealthy as before.
Dosage
The suggested dosage is taking one capsule of Cleanse Purify Colon Program after breakfast and one after dinner. If diarrhea occurs, the dosage can be dropped to one capsule a day. The dosage can also be increased to between 3 and 5 capsules per day if necessary.
Possible Side Effects
The main side effect that might occur when using this product is diarrhea. As mentioned earlier, this means that the dosage needs to be dropped. If the dosage is already as low as one capsule a day, and diarrhea is still occurring, it is suggested to cease use of the supplement and seek medical advice.
Price
90 capsules can be purchased online for the price of $33.95. It is unclear whether this price includes shipping and taxes. There are no bulk order discounts or subscription services available for this product.
Guarantee
The returns policy of this manufacturer is quite complicated. There is a 20% restocking fee if an unopened product is returned. If less than 10% of the product is used then a 15% usage fee will be charged. If more than 10% of the product has been used then a charge of 70% applies. All of these restrictions only apply within 30 days after purchase. In any case, the customer never receives a full refund.
Conclusion of Our Cleanse Purify Colon Program Review
The ingredients that the manufacturer chose to include in this product show potential for colon cleanse supplement, but the evidence behind them is not incredibly strong and the product is missing a key ingredient.
Cleanse Purify Colon Program is offered at a reasonable price, but customers are still at risk of losing quite a bit of money if they are unhappy with their purchase because the manufacturer charges a restocking fee. Customers should potentially look at product which has a much more reasonable guarantee.
Top investigative research brought to you by the experts at Customer Review.