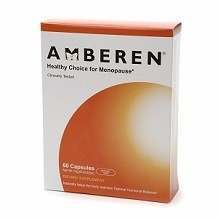 This review of Amberen Multi-Symptom Menopause Relief details the important information consumers need to be know when it comes to choosing a menopause symptoms treatment. Amberen Multi-Symptom Menopause Relief is a dietary supplement, designed to help prevent and relieve uncomfortable menopause symptoms. It does this by regulating hormone levels that are often responsible for hot flashes, night sweats, mood swings and more.
Ingredients
Amberen Multi-Symptom Menopause Relief contains seven active ingredients:
Ammonium Succinate
Calcium Disuccinate
Magnesium Disuccinate
Zinc Difumarate
Glycine
Monosodium L-glutamate
These seven ingredients help treat a number of uncomfortable menopause symptoms. Ammonium Succinate helps individuals feel more energized throughout the day. Calcium Disuccinate helps strengthen bones and nerve signal transmission. It also helps prevent muscle contractions and blood clotting. Magnesium Disuccinate promotes bone and heart health, while also maintaining blood pressure and protein production. Glycine helps regulate emotional and hormonal levels, which prevents symptoms such as mood swings. Vitamin E helps prevent hot flashes and other uncomfortable menopause symptoms.
Dosage
The recommended dosage for Amberen is two capsules a day. These capsules, one orange and one white, should be taken after breakfast. While Amberen often starts to work after 30 days, the manufacturer recommends that individuals use Amberen for a minimum of 90 days.
Possible Side Effects
After thorough research, we did not discovered any known side effects associated with Amberen. However, it does contain the following warnings:
This product should not be used by pregnant and nursing mothers
Individuals with severe hypertension should not take this product
Individuals taking prescription medication should consult with a doctor before taking this product
Price
At the time of our review, Amberen was available for purchase through a number of venues including most popular pharmacies such as Walgreen, CVS and Meijer. You could also buy Amberen through the manufacturer's website by selecting one of four different packages. A 30-day supply cost $39.99 while a 90-day supply cost $79.99. A 180-day supply would set you back $149.99. All three of these offers include free shipping. There was also a "subscribe and save" package which cost $29.99 and includes a 30-day supply of Amberen and free shipping. Customers who choose this latter option will be charged $29.99, and will receive their Amberen, automatically each month.
Guarantee
The manufacturer has a 45-day, money-back guarantee. However, this only applies for online purchases. Customers must contact the customer service department before shipping their products back to the manufacturer.
Conclusion of Our Amberen Multi-Symptom Menopause Relief Review
Amberen Multi-Symptom Menopause Relief is an ok menopause supplement. Its advantages are that it is widely available and the manufacturer offers multiple package options, making it affordable for many. The manufacturer also has a 45-day, money-back guarantee; although the guarantee only applies for online purchases. Customer reviews regarding Amberen are mixed and not particularly impressive overall. A relatively small majority of reviews (relatively small in this market segment) are positive and promote the positive aspects of this product. However, there are quite a few reviews that comment that this product did not help relieve any menopause symptoms.
Top investigative research brought to you by the experts at Customer Review.