Maxine's Menopause Formula Review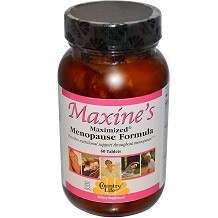 Country Life Maxine's Menopause Supplement is made up of quite a few ingredients including vitamins, herbs and minerals. It claims to help regulate hormonal imbalances which occur during the different phases of menopause in woman.
Ingredients
Maxine's Menopause contains a plethora of various ingredients. They are as follows:
Vitamin E – is a vitamin that dissolves in fat. It is an important vitamin required by the body for functioning of the organs. It also acts as an antioxidant.
Vitamin B6 – is a vitamin that allows the human body to use and store energy gained from carbohydrates.
Pantothenic acid – is also known as vitamin B5. We need B5 to help break down proteins fats and carbohydrates. It is found in nearly all food products.
Calcium – is essential to the human body for strong bones and healthy teeth.
Phosphorus – is a vitamin that helps maintain strong bones and teeth, it also helps create energy while absorbing B vitamins.
Magnesium – is a mineral that is required by the body to ensure the growth and maintenance of the bones. It also aids functioning for nerves, muscles and other parts of the body.
John's Wort – contains a chemical called hyperforin that helps regulate mood.
Alfalfa – is an herb that helps prevent cholesterol absorption.
L-Tyrosine – is used by the body to make chemical messengers. It helps improve mental alertness.
Motherwort – is an herb that appears to help reduce irritability and increase mood.
Chaste berry extract – works to affect many of the hormones in a woman's body that relate to reproductive functions.
Red clover extract – contains isoflavones which are converted in the body to phytoestrogens. These are similar to estrogen.
Licorice extract – is more commonly recognized as a flavor agent but does help with digestive issues.
Black cohosh extract – has been used for centuries to treat women's menopause symptoms.
Other ingredients used in the capsule: Cellulose, stearic acid, magnesium stearate, silica, cellulose and glycerin coating, calcium silicate, gum Arabica, vanilla, vegetable glaze
Dosage
Maxine's Menopause should be taken once a day. Two capsules with food is the suggested daily dose.
Side effects
Women who may be taking oral contraceptives should not take this medication. Pregnant or lactating women or those with high blood pressure should avoid this supplement.
Price
Maxine's Menopause is available for $11.99 on a website called Vitacost. The suggested retail price is $19.99.
Guarantee
The ingredients of Maxine's Menopause are certified as organic and are made according to GMP manufacturing practices. However, the product does not come with any money back guarantee.  It is promised though, that product contains afresh ingredients, and a consistent formula.
Conclusion of Maxine's Menopause Formula Review
While Maxine's Menopause does contain a multitude of beneficial vitamins, minerals and other herbal supplements; as well as being lower priced, it does not come with a guarantee.
Top investigative research brought to you by the experts at Customer Review.