Arbonne Women's Balance Menopause Supplement Review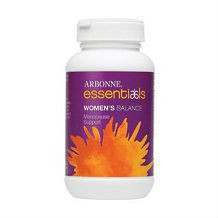 Phytonutrients have been found to play an important role in ensuring hormonal balance in the female body. These amazing phytonutrients are usually found in the most potent formulas that are designed to promote menopause balance and support, such as Arbonne Women's Balance menopause Supplement With the additional help from herbal extracts, women can reduce the intensity and frequency of hot flashes and night sweats. Other symptoms like mood swings and hormonal imbalance can also be relieved.
This product is a 100% all natural product that contains a powerful and innovative phytonutrient formula that has been scientifically formulated to help relieve the bothersome symptoms of menopause.
Prescription medications can cause unwanted and negative side effects and many women are looking for an all natural herbal approach to treating their problematic menopause symptoms This product is good for treating both perimenopause symptoms as well as full-fledged menopause symptoms and it provides relief to any and all symptoms instead of just a few.
Ingredients
These are the ingredients included in this particular formula:
Menopause Support Blend (Cuscuta Chinensis, Xylaria Nigripes, Chinese Motherwort, Astragalus, Notoginseng) – 450 mg
Milk Thistle – 140 mg
Dong Quai – 100 mg
Red Clover – 100 mg
Goji Berry – 50 mg
Black Cohosh – 40 mg
With plenty of herbal remedies included, it looks like Arbonne Women's Balance Menopause Supplement is quite a high quality and reliable all natural herbal product. Many of the above ingredients also play a very important role in maintaining good health in aging women. The formula found in this product seems to be a pretty potent and powerful one.
Dosage
The product should be taken as follows: two pills per day with a glass of water, during one of your meals.
Price
60 capsules cost $39.00 and is a full month's supply, which is 30 days.
Guarantee
For 45 days from your purchase, you can return the product for a full refund if you are not satisfied with the results. This is a good guarantee because many product guarantees are only for 30 days instead of 45. A good guarantee is a good sign of the quality of the product.
There are no mentioned side effects of taking this product.
It is unknown whether or not this product is designed to produce long-term results.
Conclusion – Arbonne Women's Balance Menopause Supplement Review
Arbonne Women's Balance Menopause Supplement contains many important herbal ingredients that are good for treating menopause symptoms that aging women may be experiencing. However, it is dissatisfying that this product does not come with the FDA seal of approval.
Top investigative research brought to you by the experts at Customer Review.