Symphony Natural Health Femmenessence MacaPause Review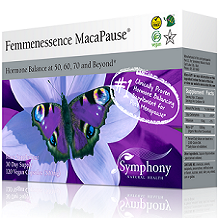 The following is a review for Femmenessence MacaPause and will inform you of the facts about this product. The manufacturer claims that this is a herbal product that will encourage your body to produce all the needed hormones in order to reduce the symptoms of menopause and create hormone balance. This product also claims to assist with bone density, cardiovascular health, better sleep and sexual health.
Ingredients
Potassium – 15 mg
Maca-Go – 1000 mg
Potassium assists with body functions such as transmissions of the nerves, muscle contractions, and fluid balance. Maca-Go may assist with increasing energy levels and stamina and also memory, it may also help women with hormonal balance and menopause symptoms and may also help with weak bones and depression. This ingredient has been used to increase fertility in livestock.
Dosage
The manufacturer suggests that you should take two capsules in the morning and another two capsules in the afternoon. It is advised that you should not use this product if you are pregnant, nursing or if you are using any other hormone suppressing medications. Alternatively, you may use this product as directed by a healthcare practitioner.
Possible Side Effects
Research shows that there are some possible side effects related to the use of this product such as digestive upset. Should this occur it is advised that you should reduce the dosage and take the capsules along with meals. Other possible side effects include headaches, increased emotional state, diarrhea, bloating and sleep disturbances. Most of these symptoms are suggested to be relieved with a lower dosage or may diminish after some time.
Price
This product can be purchased online from the manufacturer's website and is listed at $34.99 for a box that contains 120 vegetarian-friendly capsules, this is considered to be a 30 day supply. They also have the option to purchase four boxes for a discounted price of $104.97 for first-time customers. It is slightly disappointing that this option is not available for continuous purchase.
Guarantee
The manufacturer does offer a money back guarantee that is available for 60 days from purchase. The condition that the product is required to be in is unfortunately unclear however, you are required to first seek the advice of the manufacturer's medical team.
Conclusion of Our Femmenessence MacaPause Review
Based on the general qualities of this product, Femmenessence MacaPause does seem to be a fairly ok product for the reduction of menopause-related symptoms considering that it is formulated with a good ingredient that may be beneficial. This product also has a manufacturer's money back guarantee however, there is, unfortunately, a list of significant possible side effects that may result in this product not being suitable for everyone to use. This is also, unfortunately, a relatively expensive choice and the discount option is disappointingly only for first-time customers. When considering all the aspects of this product, it, unfortunately, does not seem to stand out in any noticeable ways when comparing it to other similar products.
Top investigative research brought to you by the experts at Customer Review.