MenoSmart Plus Lorna Vanderhaeghe Review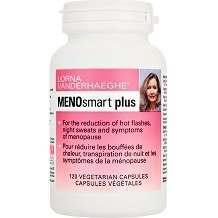 specifically for woman who are suffering through the phases of menopause. It claims to help reduce the most common symptoms such as nervousness, irritability and hot flashes. It also claims to reduce the likelihood of weakened vaginal muscles and dryness.  It may be useful for women who are stopping use of synthetic hormones.
Ingredients
MENOsmart Plus only contains the following six ingredients:
Black Cohosh extracts (Cimicifuga racemosa) – comes from the roots of the North American Cohosh plant. It has been used for centuries to treat menopause in women. It helps relieve night sweats, sleep disturbances, changes in mood and headaches.
Sage leaf (Salvia officinalis) – used most commonly for digestive problems. There is use for it by woman for painful periods, to correct excessive milk production during lactation and may help reduce hot flashes during menopause.
Dong Quai extract (Angelica sinensis) – is a plant that is used foe the relief of some menopausal symptoms. However Dong Quai is shown to be more effective for reducing occurrences of premature ejaculation.
Chaste berry extract (Vitex agnus-castus) – is the fruit of the chaste tree and is sometimes called "the woman's herb" because it is used primarily for menstrual irregularities and menopause. It appears to affect numerous hormones in a woman's body that regulate the reproductive cycles.
Gamma-Oryzanol (from rice bran oil) – is used to help reduce cholesterol levels by lowering the bodies rate of its absorption through food. It is often promoted to helping treat symptoms of menopause but there is no evidence that it does.
Hesperidin (Citrus sinensis, pericarp) – is a chemical that is found in citrus fruits. It is said to help improve blood vessel functioning as well as reduce inflammation.
Dosage
MENOsmart Plus suggests taking four capsules twice daily. It is recommended to take two with breakfast and two with dinner.
Side Effects
This supplement does not contain soy, gluten or dairy so it is considered safer for people who may have these allergies. There may be side effects in association with the different herbs used in the product such as head ache or upset stomach.
Price
MENOsmart Plus costs more than other supplements available at $32.99 for a one month supply. You can get a 6% discount which will lower its price to $30.99 but this still leaves it more costly than other better quality products on the market.
Guarantee
If you are not satisfied with this product, you will not be able to return it for an exchange or get your money back.
Conclusion for MenoSmart Plus Lorna Vanderhaeghe
MENOsmart Plus is one of the more costly supplements on the market for the treatment of menopause. Because MENOsmart plus lacks a guarantee or a returns policy, it will be a risky purchase for the consumer.
Top investigative research brought to you by the experts at Customer Review.