Aphogee Nutritional Supplement For Healthy Hair Review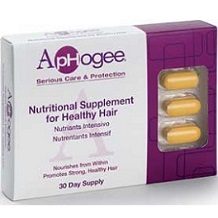 Today's review is of Aphogee Nutritional Supplement For Healthy Hair.  The American lifestyle has left us missing many key nutrients from our diet, which is essential for proper hair growth.  This specially formulated supplement helps your body to replenish those vitamins and minerals and focus on regrowing your healthy, natural hair.
What's in Aphogee Nutritional Supplement For Healthy Hair?
Vitamin E – When used as an oil, this vitamin helps replenish your scalp for healthy hair growth.
Vitamin B1 – Also known as Thiamine, this vitamin promotes healthier skin, hair, and nails.
Vitamin B2 – Also called Riboflavin, this vitamin replenishes the cells around your hair follicles.
Vitamin B6 – This vitamin helps your blood cells oxygenate your scalp and hair follicles.
Vitamin B12 – A water soluble B vitamin, this helps your red blood cells carry oxygen.
How Do You Use Aphogee Nutritional Supplement For Healthy Hair?
This manufacturer states that only one pill is needed per day to see optimal results.  Unfortunately, the ingredient list we found is not full and also does not list the amounts of the vitamins stated, so it is impossible to know if one capsule daily will truly help your hair growth.  There are also no dosing instructions to tell exactly what time of day to take the pill or if a certain amount of food or water is needed in conjunction with the supplement.
The Cost
This manufacturer does not sell their product directly to the consumer.  Instead, you as the customer are stuck buying from a third party seller. Through our research, we found prices ranging from $9.86 to $15.99.  Even with this slight range of prices, it is a cheaper supplement than others that claim to help you grow your hair better.
Is There a Guarantee?
Like with every manufacturer we have researched that does not sell their product to consumers, there is no manufacturer's guarantee listed on the company's website.  Should you find yourself unhappy with the results of this product, you must check with the third party seller you chose to try and return the unused capsules for a refund.  Many of these sellers do not accept opened products, which means there is no way to give this supplement a trial run to know if it will work for your needs.
The Conclusion – Aphogee Nutritional Supplement For Healthy Hair Review
There are a few positive attributes we found regarding Aphogee Nutritional Supplement For Healthy Hair.  Of all 5 vitamins we found listed on the website, the manufacturer claims to include 100% of the daily intake value for all 5.  Additionally, with only one easy to take capsule per day, this supplement is easy to remember.
Unfortunately we also had many concerns after our research of this supplement.  First of all, the actual information regarding the ingredient list and dosing instructions were not listed anywhere, making it difficult to truly determine how well this supplement will work.  Also, the manufacturer does not sell the product directly to customers, allowing third parties to cause the price of this supplement to vary greatly. Lastly, there is no guarantee mentioned for this product.  For these reasons, we cannot recommend using this supplement to have your hair grow stronger and healthier.
Top investigative research brought to you by the experts at Customer Review.