Kira Menopause Relief Review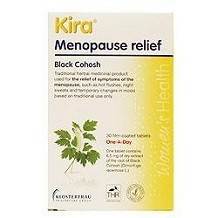 Each and every woman will eventually go through menopause and two-thirds of these women will experience bothersome and unwanted symptoms such as hot flashes, night sweats, and temporary changes in mood such as restlessness and nervous irritability.
This 100% all-natural supplement is a traditional herbal product, made with finest Black Cohosh, which happens to be a remedy for symptoms of menopause that has actually been used by aging women for hundreds of years, and has traditionally been used to help relieve these undesirable and problematic symptoms, and which may also help you to view the menopause stage as a new beginning stage in your life, not the end of it.
Kira Menopause Relief is a traditional herbal medicinal product used for the relief of the symptoms of menopause.
Ingredients
Kira Menopause Relief is a traditional herbal medicinal product containing Black Cohosh root. Each film-coated tablet of this product contains:
6.5 mg of extract (as dry extract) from Black Cohosh rhizome and root (Cimicifuga racemosa (L.) Nutt.) (4.5-8.5:1) (equivalent to 29.25-55.25 mg of Black Cohosh) Extraction solvent: Ethanol 60 % v/v
Tablet core: Cellulose powdered, lactose monohydrate, silica colloidal anhydrous, magnesium stearate, maize starch, cellulose microcrystalline, sodium starch glycollate (Type A)
Film-coating: Hypromellose, macrogol 4000, titanium dioxide (E171)
Dosage
This product is for adult use only. Women experiencing symptoms of menopause should take 1 tablet of this product daily. These tablets should be taken at the same time of day if possible (morning or evening). Swallow the tablet whole with some water or other liquid. The tablets should not be chewed.
Side Effects
This product can have side effects. Uncommon side-effects (affecting fewer than 1 in 1000 people):
Digestive upsets such as indigestion and/or diarrhea
Swelling of the face
Weight gain
Allergic skin reactions such as a nettle rash, itchy skin, etc.
If these side effects persist for more than a few days, or become problematic, you should stop taking this product.
These side-effects are often only temporary. Stop taking this product immediately if you experience any allergic skin reaction.
Black Cohosh may rarely cause liver problems. If you develop symptoms like: yellowing eyes/skin, nausea, vomiting, dark urine, abdominal pain, and/or unusual tiredness, you should immediately stop taking the product and seek medical advice. Inform your medical professional or pharmacist if you notice any other side-effects.
Price
This product costs $9.99 for 30 pills.
Guarantee
There is no mention anywhere on the manufacturer's site of any kind of implied or expressed guarantee. This is not a good sign, as when a product is a high quality product, it is usually backed by a money back guarantee.
There is no information available as to whether or not this product produces long-term results.
Conclusion of Kira Menopause Relief Review
The possible side effects of this product and the fact that it has no guarantee makes this product a questionable one.
Top investigative research brought to you by the experts at Customer Review.