Chopra Center Shatavari Review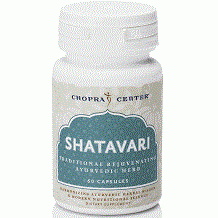 Today we review Chopra Center Shatavari.  This all natural remedy will help with conditions affecting the female reproductive organs. Not only does this herb help with milk production, and reducing inflammation, it will also decrease hot flashes due to menopause. Contained in a vegetarian capsule, this supplement is good for almost anyone.
Ingredients
This supplement contains 500 mg of shatavari root. This root is cousins with the asparagus plant that we eat. With special benefits, like anti-inflammatory qualities, this could help with your hot flashes. Unfortunately, we were unable to find any clinical studies or research to back guide us in the correct amount of shatavari needed to be effective for these symptoms. This makes it very difficult to know whether this ingredient will actually help with your menopause symptoms.
Dosage
Each serving is one vegetarian capsule. There are, however, no directions as to how to take the supplement, when to take it, or how many servings per day you should take. Paired with the lack of information we found regarding the correct dosing information, this supplement has far too many questions left about its effectiveness.
Possible Side Effects
There were no warnings listed for this supplement. This is concerning because even the dietary supplements that are considered the safest include warnings that you should check with a doctor before adding something new to your daily life.
Price
The bottles come with 60 capsules in each and cost $24.00. By purchasing 3 or more products from this company's website, you will get 10% off of your purchase. While we know that there are 60 capsules per bottle, because of the lack of directions, we do not know how long these capsules will actually last, and therefore are unable to tell how expensive this supplement truly is.
Guarantee
Chopra Center lists a return policy on their website, but not an actual guarantee. If you are unhappy with your purchase, you have 30 days to return the product in order to receive your payment back. It is not clear by this policy if opened or used products will be accepted for this refund. Also, after sending your bottles back, it could take an additional 30 days before you see the refund.
Conclusion of Our Chopra Center Shatavari Review
There are a few things we liked about Chopra Center Shatavari. These capsules are 100% all-natural and they are also vegetarian friendly. Also, each serving is only one capsule big, making the dose easy to take.
Unfortunately, we had many concerns regarding this product. Through our research, we found no evidence or scientific studies that show that shatavari is truly effective to help with menopause. Secondly, there was no true information listed about the correct dosing for these capsules. Lastly, the refund policy this company has in place may not take opened bottles, which will make it extremely hard to return the product after trying it. For these reasons, we cannot recommend this supplement to help you ease the problems that are commonly associated with menopause, like hot flashes.
Top investigative research brought to you by the experts at Customer Review.