Country Life Arthro-Joint & Muscle Support Factors Review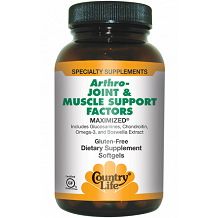 The following is our review of Country Life Arthro-Joint & Muscle Support Factors. It is a gluten-free dietary supplement that aims to provide you with joint and muscle support. This product provides nutritional support for bone, cartilage, tendons, joints, and membranes. This product also doesn't contain trans fatty acids. As we age, our cartilage surrounding our joints gets thinner and thinner. This product is supposed to help strengthen that cartilage. Continue reading for our full review.
Ingredients
Vitamin C – 50 mg
Vitamin E – 25 IU
Manganese – 5 mg
Boswellia Serrata Extract – 500 mg
Omega-3 Fish Oil Concentrate – 400 mg
Glucosamine – 325 mg
Chondroitin Sulfate – 200 mg
Poly-NAG – 50mg
Green Lipped Mussel Extract – 50 mg
CMO – 50mg
Gamma-Linolenic Acid – 50 mg
Boron – 1.5 mg
The ingredients are meant to prevent excessive inflammation, slow down the deterioration of joints, bone, and cartilage. They are also supposed to fill up the gaps in the joints and cartilage and therefore easing pain and swelling. This product contains no yeast, wheat, gluten, milk,  sugar, and preservatives.
Dosage
It is recommended for adults to take 3 softgels a day or as directed by a healthcare professional. You should always discuss the supplements you take with your doctor but you should specifically consult with your doctor before use if you are pregnant, nursing, taking a medication, or planning a surgery.
Possible Side Effects
There were no possible side effects listed on the manufacturer's website. If you notice any adverse reaction, immediately stop using the product.
Price
Country Life Arthro-Joint & Muscle Support Factors can't be purchased directly from the manufacturer's website. It can be purchased on Amazon for $25.07 for a bottle of 60 softgels, which means this bottle will only last you 20 days, making this a very expensive product.
Guarantee
The manufacturer provides no money-back guarantee since it can't be purchased directly from them. They do though have a pledge of integrity stating that they use the pure form of each of their ingredients. They also ensure their ingredients are completely clean and made in a GMP certified facility. They guarantee the freshness of their products throughout their shelf life. This is all great to hear but without a money-back guarantee, the customer can't have a risk-free buying experience. The return policy will vary based on which seller you purchase from.
Conclusion of Our Country Life Arthro-Joint & Muscle Support Factors Review
There are a couple of positive things about Country Life Arthro-Joint & Muscle Support Factors. It has the right blend of ingredients to help treat inflammation and joint pain. There were also a bunch of positive customer reviews for this product. A customer said they tried other products but this one has worked best. There were also a couple of negatives. This product comes out to be very expensive if you need to continuously use it 3 times a day. This product is also not backed by a guarantee which shows the manufacturer doesn't have much confidence in their product's effectiveness. It also doesn't give the customer much confidence or a risk free purchase. We feel you can find a more affordable and effective product elsewhere.
Top investigative research brought to you by the experts at Customer Review.