Premium Certified Moringa Premium Review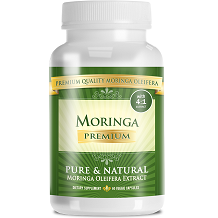 The following review of Moringa Premium aims to provide detailed information on what contributes to this product's effectiveness as a health supplement and how it provides superior results to competing products. The producers of this supplement clearly state that it will provide health benefits such as weight loss, improved respiratory function, and increased energy levels. The formula is comprised of one key all-natural ingredient that does not pose any harmful effects.
Ingredients
The main active ingredient in this product is Moringa Oleifera. This ingredient is packed with essential nutrients and vitamins that improve overall health. Moringa supplies the body with the essential antioxidants Quercetin and Chlorogenic Acid. These substances lower blood pressure and regulate blood sugar levels respectively for improved cardiovascular health. Studies on the uses of Moringa have noted that it has powerful anti-inflammatory properties which will minimize the risk of pain associated with swelling. Moringa packs plenty of minerals such as Iron and Zinc. Iron helps combat nutritional deficiencies that lead to anemia and Zinc is known to regulate the immune function. Vitamin C is found in Moringa and this is essential to the reparation of cells and tissue for improved skin. These are a few of the ample health benefits of Moringa, provided that the supplement is pure and of a high quality. Premium Certified ensures that their supplement is manufactured following strict cGMP guidelines and complies with US Pharmacopeia standards of purity and quality.
Dosage
The manufacturer recommends consuming two (2) capsules daily, once in the morning and once in the afternoon. This dosage supplies a concentrated 4:1 ratio of 100% pure Moringa which is argued to be the most effective strength. This, when used as advised, would provide superior results to competing products that contain a lower ratio.
Possible Side Effects
The manufacturer does not note any negative side effects associated with the use of this product. This is because the product is 100% natural and does not include any artificial ingredients, additives, or preservatives. The product is vegan-friendly and may be consumed with other medication. However, consulting a health practitioner is advised.
Price
A one (1) month supply of this product can be purchased online from Moringa Premium for $48. This is at a $20 discount. The manufacturer offers additional discounts on bulk-buy orders. The most popular deal is the 'Buy 3 Get 3 Free' option which will cost you $138. This special offers a $270 saving which is substantial and makes the long-term use of this product extremely appealing. For added security, all online purchases are supported by a Norton Shopping Guarantee which protects you from ID theft.
Guarantee
Purchases of this product come with a 90-day money-back guarantee. This guarantee is lengthy, giving you ample time to test the product before committing to the purchase. Both unopened and opened products are eligible for a refund. This suggests that the manufacturer is confident in the product's ability to deliver optimal health benefits and gives you peace of mind with each purchase.
Conclusion of Our Moringa Premium Review
This product contains a 100% pure and quality ratio of Moringa that provides several overall benefits such as improved cardiovascular health and increased energy. This formula adheres to strict cGMP guidelines and US Pharmacopeia standards which is a testament to its purity and quality. The product is also supported by a money-back guarantee which indicates confidence in its ability to work as intended. Finally, the long-term affordability provided by significant discounts make this an ideal Moringa supplement for improved health. We highly recommend Premium Certified Moringa Premium.
Top investigative research brought to you by the experts at Customer Review.