Watts Beauty Advanced Skin Care Retinol Night Serum Review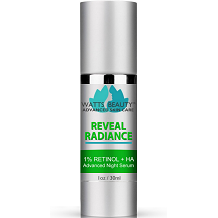 Watts Beauty Advanced Skin Care Retinol Night Serum's goal is to reduce pores, blemishes, uneven skin tones, and signs of aging. The manufacturer claims that it is a lightweight serum perfect for oily or combination skin. In this review, we determine whether this is the ideal night serum for you. Hence, we will help ensure that you make an optimal purchase choice.
Ingredients
2.5% Retinol
Hyaluronic Acid
Vitamin E
Green Tea
Retinol's primary role is to speed up cell turnover and promote the body's production of collagen. As a result, it encourages the growth of healthy skin tissue. Furthermore, the boost of collagen supports the skin's structural integrity. This can result in healthier and younger looking skin. Hyaluronic Acid further boosts collagen levels. Therefore, it may reduce the appearance of wrinkles and fine lines. Vitamin E prevents the impact of damaging free radicals. Green Tea supplies important nutrients to the skin. Consequently, it can protect the skin from UV damage and external aggressors. Phospholipid is rich in linoleic acid. Linoleic acid supports the synthesis of lipids which form a barrier over the skin. Therefore, it nourishes and hydrates the body.
Watts Beauty Advanced Skin Care Retinol Night Serum contains several beneficial ingredients. However, the formula lacks clinically proven patented ingredients. This is concerning as competitors may contain up to six. These competitors will likely deliver better results as patented ingredients are a testament to product quality. It is pleasing to see that this formula is animal cruelty-free and cGMP certified. This suggests that manufacturing processes are ethical.
Instructions
The manufacturer is not clear about how to use this product. In fact, they fail to provide any instructions. Therefore, we cannot determine how often you should use it or what method of application will provide the best results. Furthermore, the Retinol concentration may be too high for certain individuals. As a result, they recommend trying their alternative Retinol product first. This will come at an additional cost and may not provide optimal results.
Price
Customers can purchase the product online. It retails on the manufacturer's store for $17.99 per 2.24 oz bottle. The price has been reduced from $59.99, therefore, offering you a substantial saving. However, the low price is likely due to the fact that it doesn't contain patented ingredients. Though you may pay a little more, you will experience better results with an alternative that contains a superior formula.
Guarantee
The manufacturer claims to offer a 100% Satisfaction Guarantee. However, there appears to be no information pertaining to their return policy. This brings the reliability of the guarantee into question. As a result, they may not be liable for a product that fails to work. Therefore, suggesting that they are not confident in its quality. While there are many positive reviews on their website, its likely that management has screened out the negative ones. There are many negative customer reviews on third-party sites. Several individuals stated that it does not work and others experienced breakouts.
Conclusion of Our Watts Beauty Advanced Skin Care Retinol Night Serum Review
It is pleasing to see that Watts Beauty Advanced Skin Care Retinol Night Serum contains a sufficient concentration of its main ingredient. Furthermore, it is affordable. That said, its low price is probably due to the fact that it doesn't include patented ingredients. As a result, it may not prove as effective as competitors which do. Also, the guarantee policy is nowhere to be found and there are several negative customer reviews. Hence, we do not recommend it.
Top investigative research brought to you by the experts at Customer Review.