Comfort Zone Absolute Pearl Night Serum Review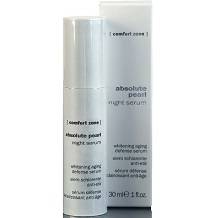 This review is of Comfort Zone Absolute Pearl Night Serum. The product's purpose is to whiten the skin and reduce signs of aging. The company that manufactures it claims that it is a highly concentrated and effective formula. But, is it the best night serum on the market. We analyze various product attributes to determine the reliability of claims and whether you should purchase it.
Ingredients
Gluconolactone is a beneficial acid that is gentle on the skin. It has skin conditioning properties. It may remove excess oil and restore moisture balances. As a result, it may improve hydration. Actiwhite is a skin brightener. Its role is to inhibit the body's production of melanin. Melanin is a key contributor to hyperpigmentation. Vitamin C supports collagen production. Collagen is found in the skin tissue. Hence, boosting collagen levels supports the skin's structural integrity. These ingredients, although beneficial, cannot provide total care results. We say this because there are other important skin care ingredients. As an example, Vitamin E diminishes marks by reducing the impact of harmful free radicals.
It is appealing to note that Comfort Zone Absolute Pearl Night Serum contains a patented ingredient, Actiwhite. However, the inclusion of one is not in line with the market leaders. There are competitor products that contain up to six clinically proven patented ingredients. As a result, they will likely prove more effective. It is very concerning to note that there is no clear indication it is animal cruelty-free or vegan-friendly. Therefore, we cannot be sure manufacturing processes are ethical.
Instructions
The manufacturer recommends applying at night to clean skin. Users should massage the product in until it absorbs fully. They suggest following application with their Absolute Pearl Fluid or Cream. However, this will come at an additional cost. While the manufacturer claims that it is highly concentrated, they fail to provide the ingredient concentrations. Therefore, we cannot be confident in this claim. Furthermore, they do not provide any precautionary warnings. An individual's reaction may vary so it is best to conduct a patch test before use. This, however, can only be done after committing to a purchase.
Price
You cannot purchase the product from the manufacturer. It can be bought through third-party retailers and websites. It costs $99.98 from Amazon. This is an extremely expensive price to pay for a night serum, especially one that only contains a single patented ingredient. There are no bulk-buy options and, at the time of writing this review, there are only two in stock. Therefore, this appears to be an unsustainable product choice.
Guarantee
The manufacturer does not offer a guarantee. As a result, you may not be eligible for a refund if it does not work. This suggests that they are not confident in it. This does not align with the market standard, especially considering that competitor products contain lengthy guarantees. Furthermore, there is very little in the way of customer reviews. Therefore, we cannot gain an accurate understanding of its efficacy. You may need to consider a more supported alternative for optimal results.
Conclusion of Our Comfort Zone Absolute Pearl Night Serum Review
Comfort Zone Absolute Pearl Night Serum has some appealing selling points. It contains a patented ingredient and the manufacturer is fairly clear about instructions. However, there are only two in stock on Amazon for a very high price. Long-term use may not be possible and won't be sustainable if it is. Furthermore, there are no guarantees or customer reviews to confidently assure efficacy. In saying so, we do not recommend purchasing it.
Top investigative research brought to you by the experts at Customer Review.